Discover the beauty of the coastal region of Provence and explore a few of our favourite properties in this popular destination blessed with a lot of sun, sea and sailing activities…
When we think of Provence, images of cobblestoned streets, olive trees and lavender fields come to mind. A region beautifully bathed in sunshine throughout the year, famous painters like Van Gogh, Cezanne and Matisse has paid homage to this beloved region, depicting rolling fields of golden sunflowers and amazing sunrise and sunsets in their respective world-renowned masterpieces.
Provence is a region that stretches from the Var to Avignon and as well as the stunning countryside, the region includes some breathtaking coastlines and many charming coastal towns such as Cassis, Toulon, and Bandol to name a few. Other than the charming villas and bastides that dot the rolling hills and valleys in Provence, properties on the coast of the region boast of their own magnificent views of the Mediterranean Sea and the famous calanques which tourists always visit to enjoy its pristine waters and magical rocky cliffs embraced by an array of local pine and trees.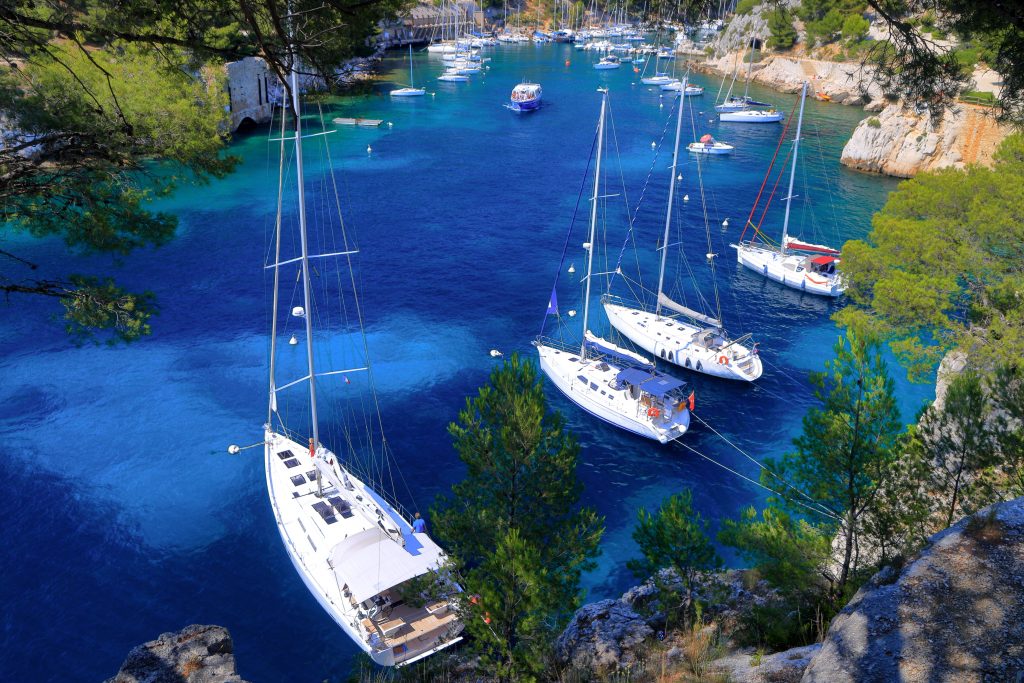 A quick boat ride from one of the little ports situated in La Ciotat brings you to a speckle of tiny islands that welcome all who are looking for a peaceful spot away from the usual crowds. Going further down to Hyeres, it is a definite must to sail and visit the splendid island of Porquerolles and grab a bicycle to explore the whole island for a day.
We invite you to explore the coastal region of Provence with us and visit some of the best properties that may capture your heart and may just inspire you to purchase one and live the dream in this part of the south of France!
9TH Century Oriental Beauty in Toulon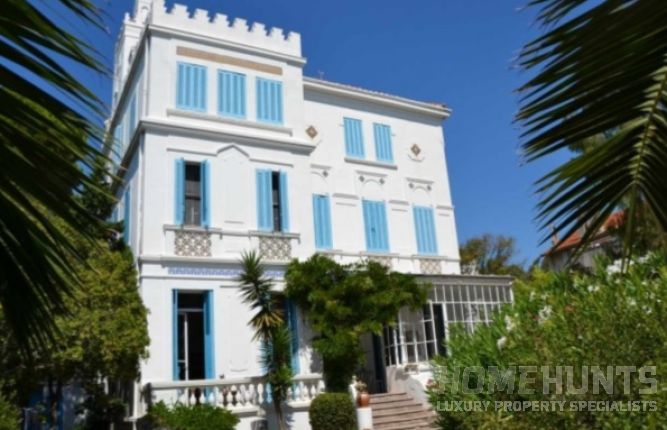 Overlooking the bay of Tamaris, in the harbor of Toulon, this oriental house from the late 19th century (HH-11411038) is located and was built for French sailor, Michel Pacha, famous for his construction of many Arab-Andalusian-style mansions at the end of the 19th century. Pacha had attracted the favors of Sultan Abdulmecid by modernizing the whole Ottoman system of lighthouses and beacons, which enabled him to obtain the concession of the quays of the ports of Istanbul and to accumulate a colossal fortune.
The house, exposed to the east, was built 50 meters from the water. It is protected from the cornice by its green garden. The white facade is adorned with blue shutters in the Sidi Bou Said style, with inlaid friezes of glazed earthenware tiles and curved outlines in arc-shaped horseshoe-shaped domes. The small minaret on the panoramic terrace at the roof and the carved crescent above a door accentuate its oriental character. The terrace is lined with white merlons. Beneath the windows on the first floor, the lighteners are formed of geometric drawings with bricks. A small balcony bordered by balusters extends the dining room on the ground floor. The land, which extends mostly in front of the house, is planted with oleanders, palm trees and magnolia dominated by a large parasol pine.
To the west, behind the building, are numerous outbuildings including two garages, a caretaker's apartment and five bedrooms. The extent of the land would allow for a swimming pool to be added. The house, with a habitable surface of 330 m2, is accessible either by the corniche via the garden or by a small street located to the west. The back forms a small courtyard where it is possible to park a few cars.
The house is visionary in many respects. First because it is the fruit of the passion of a man, Michel Pacha, child of Sanary and creator of Tamaris, who made a fortune in the 1870's by putting his nautical knowledge at the service of the Ottoman sultan. Hence this architectural and sentimental wink evokes Sidi Bou Said and the banks of the Bosphorus. Then because the panorama that it offers on the bay furrowed by fishing boats and boats of all sizes is as stunning as picturesque.
Finally, because it is well illuminated and offers relaxing volumes bathed in a decor almost untouched. At the price of an overall refreshment, the buyer will be able to house a large family in a very Belle Epoque atmosphere. Guests can also be accommodated in the numerous outbuildings, knowing that a boat shuttle is nearby makes it possible to travel directly to the train station and the market of Toulon. Priced at €1,680,000.
Contemporary Jewel in Canadel Sur Mer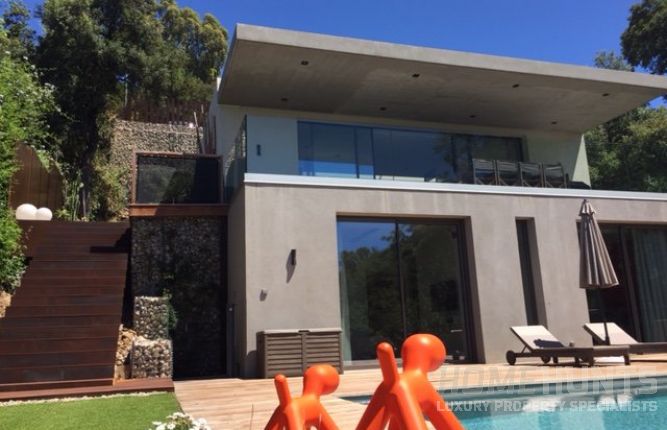 This modern and contemporary villa (HH-11347894) with grazed green roof is spread over 2 levels and 160 m2 habitable space.
Its minimal architecture is built on a landscaped sloping ground of 609 m2, with its position offering a nice sea view as the construction fades in to the vegetation.
Its services and materials are very high quality, the house is also fully air-conditioned. Its furnishings are from a selection of renowned designers and architectural lighting by the famous Italian designer FLOS.
The entrance is on the upper level and it consists of a living space, a fully equipped modern kitchen, a living room / dining room with library space and opens out via large openings on to a vast terrace overlooking the sea. The covering used on the terrace is the same as inside to extend the living space towards the outside.
The lower level is dedicated to the sleeping area, three large bedrooms en suite, each with its own bathroom and dressing room, an office, a laundry room and a wine cellar. This space opens on a vast wooden terrace decorated with an infinity swimming pool of 10 meters by 4 meters.
This remarkable architecture is the work of the local architect Olivier Ghibaudo who has taken advantage of the topography of the terrain and its slope by promoting integration and light.
Priced at €1,560,000 this villa is perfect for lovers of contemporary architecture by the seaside and homes that are successfully integrated into the surrounding vegetation
Blue Skies and a Great Seaview in Toulon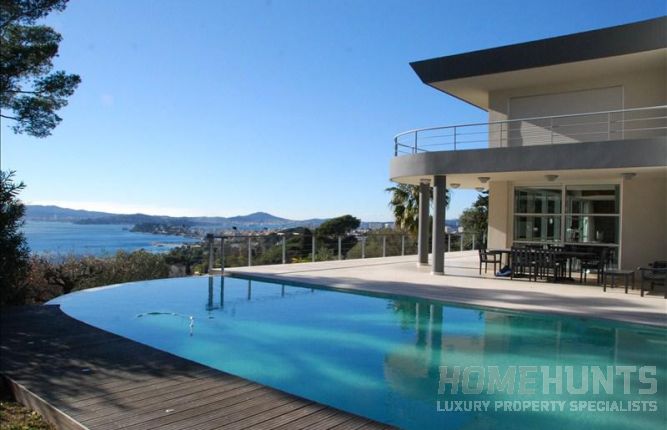 This exceptional property with a prime sea view (HH-11195275) is located in the highly-sought after residential area of Le Cap Brun, Toulon.
Contemporary in style, this property has been finished to a very high standard with modern fittings laid out in a generous living space of 400 m2.
It stands on a landscaped dominant plot of 1,700 m2 with parking for you and your guests. The villa was recently built and it includes a fabulous reception room of 120 m2 with a lounge and dining area, a modern feature fireplace and an open plan equipped kitchen, with a wall of glass letting in vast amounts of light via sliding windows that opens unto a sea view terrace!
Upstairs above the reception area is a large gallery area with exceptional sea views which leads you to 5 en suite bedrooms with private bathrooms and dressing rooms. There is a gym, a home cinema room, a wine cellar and the property has an elevator connecting to a spacious garage and a driveway.
You will adore the infinity pool and sun terraces, as will your guests! At a price of €3,550,000 it is in this superb villa that you can truly relax and enjoy your incredible views.
Top Class Luxury in Carqueiranne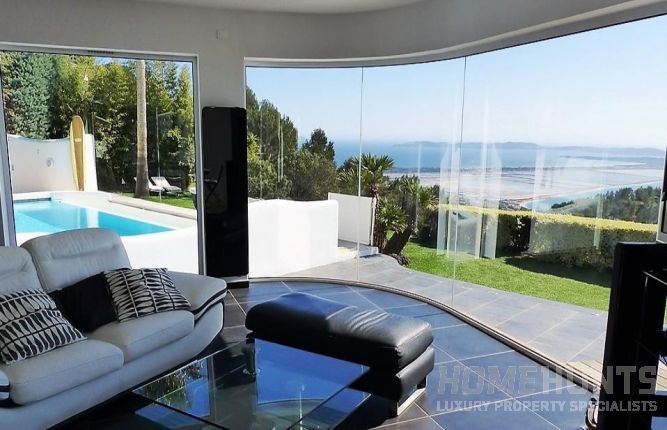 This sublime property (HH-11457197) boasts of a panoramic view of the Peninsula of Giens, the double tombolo and the island of Porquerolles! Nothing beats its strategic location and its top class luxurious interiors.
It is designed as a contemporary villa with upscale amenities, living space with panoramic bay giving the impression of diving into the sea, TV lounge, 6 bedrooms including 4 with sea view, 3 shower rooms, office, garage and car port.
A landscaped garden of cactus and palm trees on a plot of over 1,500 m2 crowns the property with a swimming pool and a Jacuzzi.
The benefits are up to the standard of this magnificent property: bay windows with brick partitioning, a home automation system, automatic watering, swimming pool with automatic maintenance, sumptuous garden lighting, covered Jacuzzi with sea view and shower, summer kitchen…all at a price of €3,300,000.
Wonderful Oasis in Bormes Les Mimosas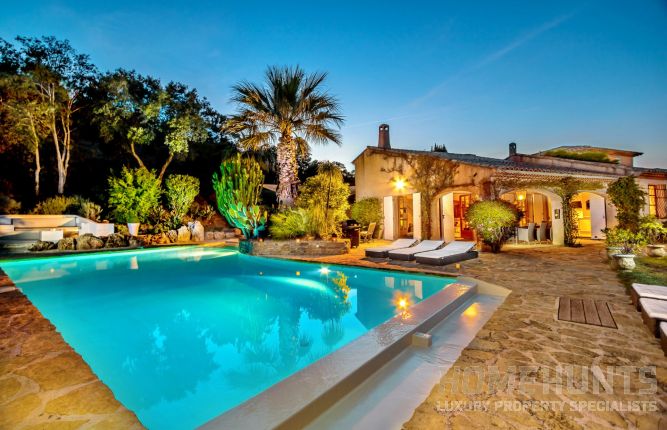 Secluded with sea and on 2.8 hectares, this beautiful luxury property (HH-10528719) consists of the main house of 306 sqm and an independent guest or staff house of 90m2 with 2 apartments.
In the main house, you will find a beautiful entrance, living room with mezzanine and fireplace, dining room, kitchen with dining area, 3 bedrooms, 2 bathrooms, a separate apartment, a large basement and a garage. The houses are in perfect condition and tastefully renovated with luxury amenities.
The land of 28,000 sqm is partly flat, surrounded by a terrace of forests with a beautiful view of Le Lavandou. The property is located near the village, the sea and the beautiful beaches of Cabasson. Priced at €2,950,000, we can give you more information on this wonderful oasis as you wish.
If you are looking to buy property on the Provence Coast, you can search through Home Hunts' portfolio at www.home-hunts.com
To discuss your specific needs and to find out more about locations offering the best investment opportunities, speak to a consultant directly on +33 (0)970 44 66 4