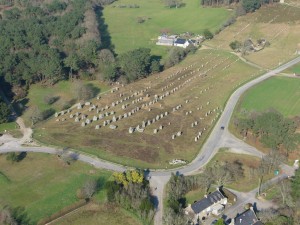 Magical, wild, enthralling and unforgettable – these are some of the words that can be used to describe Brittany, one of France's most beautiful regions in the north-west of the country.
Renowned for its beaches (Brittany boasts over 3,000 kilometres of coastline), rugged landscapes, inland woods, medieval towns and year-round mild climate, it is no wonder that over three million tourists visit each year.
Brittany comprises four departments: Côtes-d'Armor to the north, Finistère in the west, Ille-et-Vilaine to the north east and Morbihan in the south. Brittany's strong culture is tied up in its Celtic past, myths and legends, which is no more evident than in Morbihan with its many megaliths and menhirs.
The capital of Morbihan is Vannes, a charming city with well-preserved medieval streets and ramparts, and a stunning Roman Catholic cathedral. It is located on the Gulf of Morbihan, a natural harbour protected from the Atlantic that also includes towns such as Séné, Arradon, Saint-Armel and Arzon, which reportedly has the longest coastal area in France.
The Gulf also includes two islands: the Île-d'Arz and the Île-aux-Moines, and the latter features many megalithic monuments. The most famous are the Carnac stones, which stretch for around ten kilometres from the village of Carnac and into La Trinité-sur-Mer and date back to 4500BC.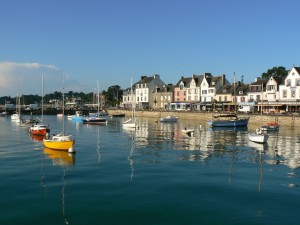 South of Carnac lies Quiberon, which offers residents and tourists no less than ten sandy beaches that stretch out towards the Atlantic. This peninsula is one of the most popular spots for visitors during the summer months. With a rugged coastline, exquisite little villages and all manner of fish restaurants and boutiques in the main village of St-Pierre-Quiberon, this is an area that attracts a diverse mixture of people, from families with young children to extreme water sport enthusiasts.
Lorient, to the west of Morbihan, is a modern town with the largest number of inhabitants in the department. With an airport, offering direct flights to destinations such as Paris and Ireland, and a railway station offering a fast TGV connection, it is easily accessible from national and international locations. Around 700,000 people take advantage of these links each year by visiting Lorient's annual Festival Interceltique in August, a rambunctious celebration of Celtic music and culture.
Auray, north-west of the Gulf of Morbihan, is well-known for its marina in the port of Saint-Goustan on the River Auray. With narrow winding streets and alleys, its old town is the main attraction for tourists which features charming 15th and 17th century houses.
Pontivy, in the north of Morbihan, is most famous for its château, overlooking the River Blavet, which was constructed by Viscount Rohan in 1485. A quiet market town which contains Morbihan's only example of a 16th century porched house, it is a popular location in which to own a second home.
Brittany-based properties are not available yet on the Home Hunt website, but they are coming soon. In the meantime, for information about Morbihan's housing market – or to discuss opportunities to buy in Brittany in general – contact the France office directly on: +33 (0)970 44 66 43.