Nicky Summer.  Creative Director and Founder of City and Beach
Luxury International Interiors & Lifestyle
"You are a product of your environment.  So choose the environment that will best develop you toward your objective." W.Clement Stone.
Our personal living and leisure space needs to be a place to unwind, a space which perfectly reflects our individual personality and preferred lifestyle.  There is style and then there is true Style.  Successful interior design requires a magic touch, an ability of being able to "see beyond" to create the desired surroundings.
Nicky Summer founder of City and Beach has spent the last ten years designing and refurbishing properties to recreate luxurious but livable environments.   Inspired by central city locations or beside the sea, (hence the name) they work to a philosophy and style of 'Relaxed Glamour'.   Each project is carefully and personally managed by Nicky who relies on her experienced team to work with enthusiasm and good-spirited dedication.  "It is important to know that I can rely on the whole team, from the Architect to the craftsman re-tiling the pool." she says.
There is no typical client as they range from media and rock stars, bankers, and businessmen, all with one thing in common: living an extremely busy lifestyle.  More often than not they don't have the time it takes to create the environment they desire or an "other half" to put their ideas together.
In creating a lifestyle environment, meticulous interpretation and attention to detail is vital.   Many clients purchase a new property as a result of a major life change, upsizing, downsizing, marriage, major success, divorce.   Entering someone's personal space is almost like becoming that client, living their life and measuring up to the demands of their lifestyle.  Nicky admits "Many of our clients have very high security arrangements and this makes it necessary for them to be able to trust us implicitly with information relating to all aspects of their life. Trust is vital."
City and Beach's philosophy is to create warm, welcoming environments and not a showcase, using all the latest technology and high quality furnishings.   "Often we are incorporating existing pieces of the clients' furniture and art. I spend a lot of time allowing inspiration to flow from the surroundings, the view and existing colours." says Nicky.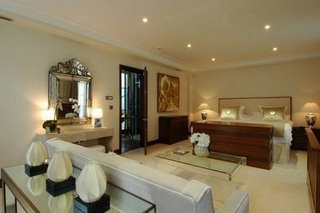 After years of travelling the world with her job, she socialized with many interesting and iconic people such as Mick Jagger, Rod Stewart, Princess Diana and Prince Albert.  She scrutinized finer details and designs from many of the top international luxury hotels and private properties she stayed in, an inspiration which is firmly implanted in Nicky's persona.
Sourcing and scouring the globe for the interior and exterior furnishing and accessories takes a huge amount of time but when you are working for some of the world's richest clients, only the best will do.  "We buy from around the world.  Belgium, in particular, produces fabulous contemporary furnishings on a large scale.  We also buy from the flea markets in Paris where Ralph Lauren is also a regular buyer.  Other places such as Mougins and St Tropez for home accessories, Caroline Quartermaine's textiles with gold calligraphy are stunning and we often use them for upholstery."
A recent project in the South of France was to refurbish the primary residence near Grasse of international broadcaster Andrew Neil.  The house is frequently host to visiting celebrities, politicians and royalty and their brief was to transform it into "The Four Seasons" whilst retaining its Provençal character and charm.  Each of the five bedrooms was overhauled in a different colour and all of the main rooms were restyled in an eclectic mix of old and new.  The gardens were re-landscaped and the pool, office and gym areas restyled.  "We use a lot of mirrors on our projects as it increases the perception of space, especially in smaller city properties.  In Andrew's library, which was quite heavy and dark, due to his many books, mirrors were essential to create a feeling of light and glamour."
From shore to ship, City and Beach were asked to re-brand a luxury Yacht and to recreate its logo. The interior and exterior furnishings were upholstered with Dedar fabric and a classy, sleek monochrome theme of black, white and platinum now flows throughout.  In true City and Beach style, black and white beach towels were sourced from Stranos in St. Tropez and embroidered with the name of the yacht.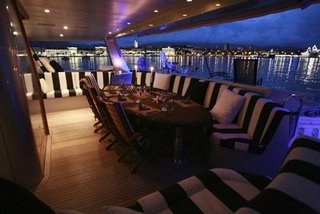 Going hand in hand to create a luxury lifestyle ambiance, City and Beach also have their own range of Home furnishings and products such as scented candles made in France, 'couture'cushions, sofas and wall finishes.  Clients such as Hugh Grant and Darcey Bussell are amongst the visitors to the discreet City and Beach shop on the ground floor of an Edwardian building in central.  "Basically, if we can't find what the client wants, we'll build it" confirms Nicky.
Many of their clients are by word of mouth and current projects involve boutique hotels in London, Venice and Rome, consultancy on a new London Nightclub, fitting out a private jet and a residence in Belgravia, London.
Although hiring an interior designer used to be considered an extravagant luxury, the knowledge and contacts that fill the notebooks of designers like Nicky Summer, could in the end save a lot of wasted time and money.  Vivre la lifestyle and live in style!
For more information contact: www.cityandbeach.com