Vamos a la playa! Get some sun and fun in the reigning summer capitals of Ibiza, Marbella and Majorca and enjoy some of the top events happening in these 3 top destinations…
The low airfares to Ibiza, Majorca and Marbella are so tempting that many tourists and visitors coming from the UK and other countries in Europe have all booked plane seats to reach these 3 top destinations to have a grand time and enjoy the best parties, stunning seascapes and the freshest seafood fare.
If you are one of the visitors to these islands in Spain this summer, whether you are coming by plane, yacht, or your own private jet, you can have your own corner of paradise by renting a luxurious villa or buying yourself a waterfront or sea view property (we have some recommendations for you below). You can have your own version of a superb summer holiday by combining different experiences and activities that we have compiled here for you before you head off for your ultimate summer vacation!
Here are some of the best summer events and parties happening in Ibiza, Marbella and Mallorca this July through August for you to choose from!
The Party Scene in Ibiza Goes on and on
This island of Ibiza is globally known as the party capital for many years and it hasn't stopped partying ever since the first clubbers and sun-worshippers have settled on the island.  Established clubs and bars on the coast which started small are now bigger and more popular than ever and more luxury boutique shops and gastronomic restaurants offer the best shopping and dining experience.
One of the first ever clubs that have been a shrine for international DJS to visit annually is the Pacha Club, and we do recommend coming over to this establishment and get a taste of what world-class clubbing is all about.
BBC Radio 1 Weekend hosts a lot of concerts and parties every night on the island and this summer, they will be starting off on the 4th of August at the island's newest super club Hï Ibiza and will also be doing some sunset DJ sessions at the Café Mambo where everyone can throb to the beat of excellent music while marveling at one of the world's most famous sunsets in Ibiza.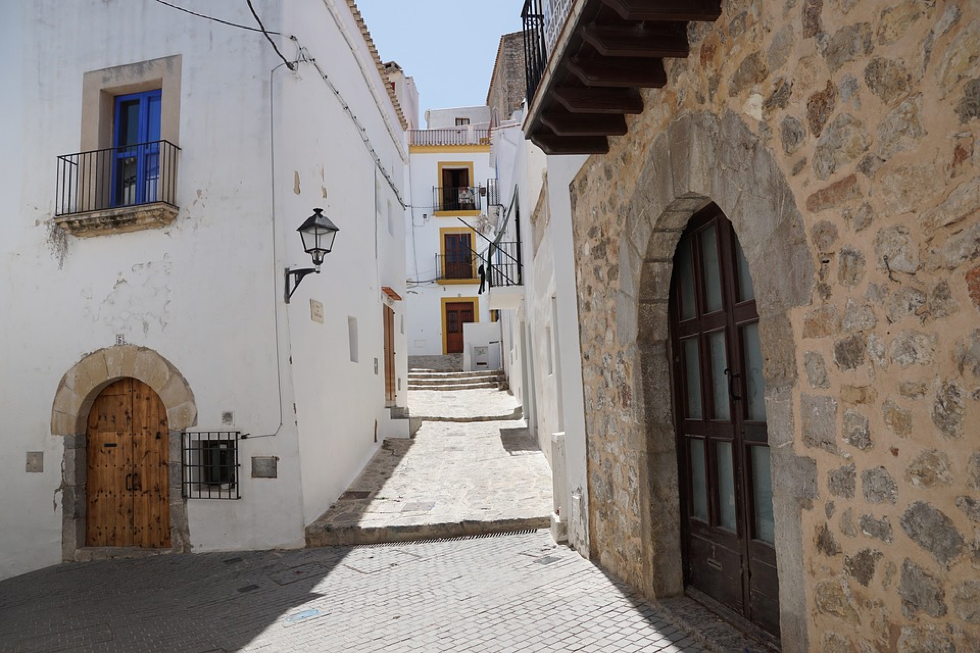 For art lovers, a visit to the MACE (Contemporary Museum of Ibiza) is a lovely way to spend your time on the island after you find your way through the maze of white-washed houses with blue window shutters. Lots of boutiques and shops can be found along the little winding paths and we recommend stopping by White Ibiza and do a combination of shopping and dining at  Sa Punta Ibiza.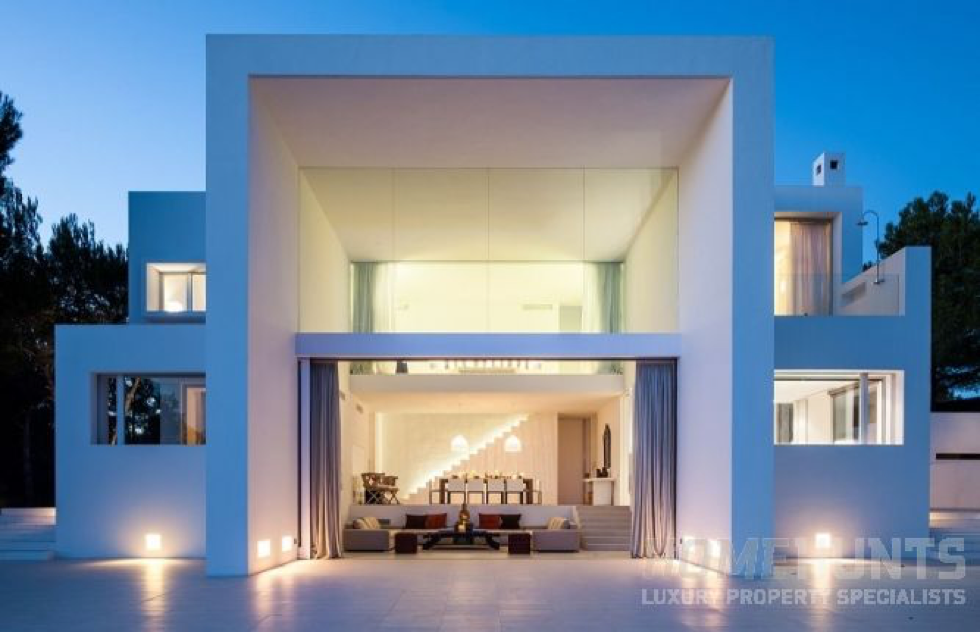 This modern and contemporary villa in Ibiza is a favorite among property buyers looking for a top location for their property investment in the island. Price can be disclosed upon demand.
After partying, shopping and dining in Ibiza, make sure you get some good relaxation time in a nice villa or hotel on the island. Better yet, buying your own villa on the island is a good choice, with this modern villa (photo above) hot on the market now for sale for you to view.
Lounging and Dining on the Golden Sandy Beaches of Marbella
Blessed with a coastline of 27 kilometers with 24 golden sandy beaches, Marbella is truly heaven for visitors. With beach side bars called chiringuitos dotting the coastline, you will never go hungry as you get served all day and night as you lounge on your sunbed. Try the Costa del Sol's favorite summer dish called Espetos which is best served with some fresh salad, bread and olive oil with a glass of chilled Sangria.
El Canarias Playa Beach Bar in Torremolinos is a favorite among the locals and has won first place in a recent competition for its perfectly grilled Espetos and we do recommend passing by this place as you walk along the beach coast. Another contender offering the best Espetos is the El Madero Beach Bar in Estepona which is also popular among the locals.
Plaza de los Naranjos, one of the biggest squares in town is not to be missed and you can view and listen to live music or choir concerts in this area. A superb music and arts festival that is happening now until August is the Starlite Festival happening in a natural Amphitheatre located in Nagüeles and brings together international artists such as Ben Harper (performing on August 18) and Manuel Carrasco (performing on August 18) on centerstage along with other top world-famous DJs that include Juan Magan and many more.
For the latest dining hotspots in Marbella, check out El Chiringuito Marbella which recently opened on the Golden Mile and is the sister restaurant to the legendary Ibiza restaurant. The inviting Mediterranean restaurant offers amazing food and a beach club atmosphere perfect for all!
Another hip place is The Monkey Club located in one of Puente Romano's social terraces. Al fresco dining is one of the highlights here with gastronomic fare prepared by top chefs coming from Marbella's well-known Casamono restaurant team. Nobu Restaurant and Lounge has also landed on the shores of Marbella and this summer, you can get their signature Japanese dishes and some dishes fused with Peruvian flavors, concocted by Exceutive Chef Eleni Manousou.
Marbella also boasts of top luxury accommodations and properties and the areas that we recommend when buying or renting a villa include the Golden Mile, Nueva Andalucia, Puerto Banus, Guadalmina Baja and Sierra Blanca.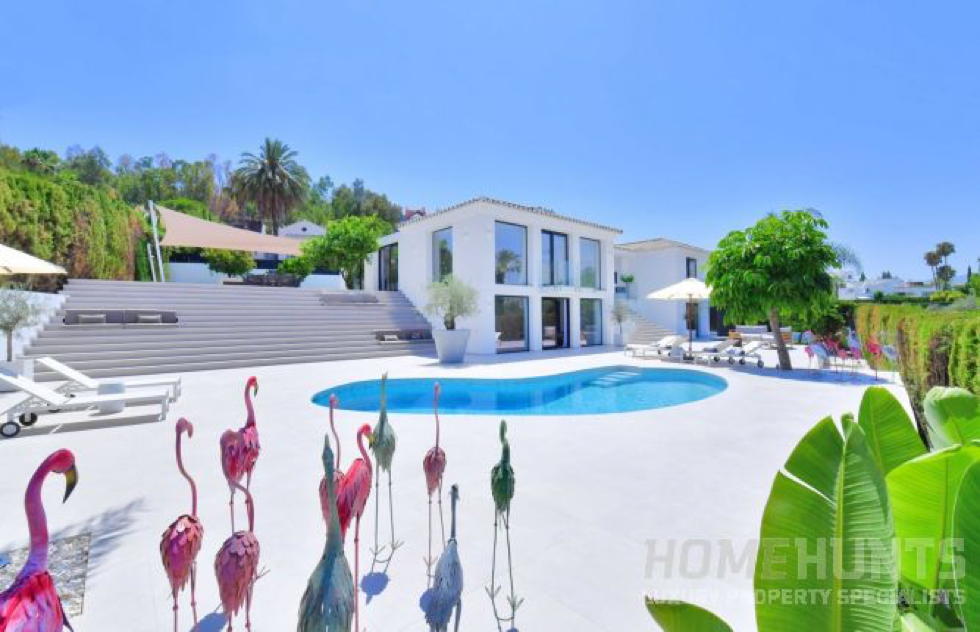 Top property for sale in Nueva Andalucía in Marbella. Priced at 2,495,000 Euros. Contact is for more details.
Majorca Treats and Delights
This sunny destination in Spain has recently been on the map for those who are followers of the hit UK television show, Love Island, being the location of the villa where the stars from the program stayed. More and more have been asking where Mallorca is and how to rent or buy a villa (like the luxurious one from the hit show) in this prime destination and we are just delighted to share more information on this top location as we have a lot of properties in this top island and our luxury property consultants in the area can give some bespoke advice to all who are interested.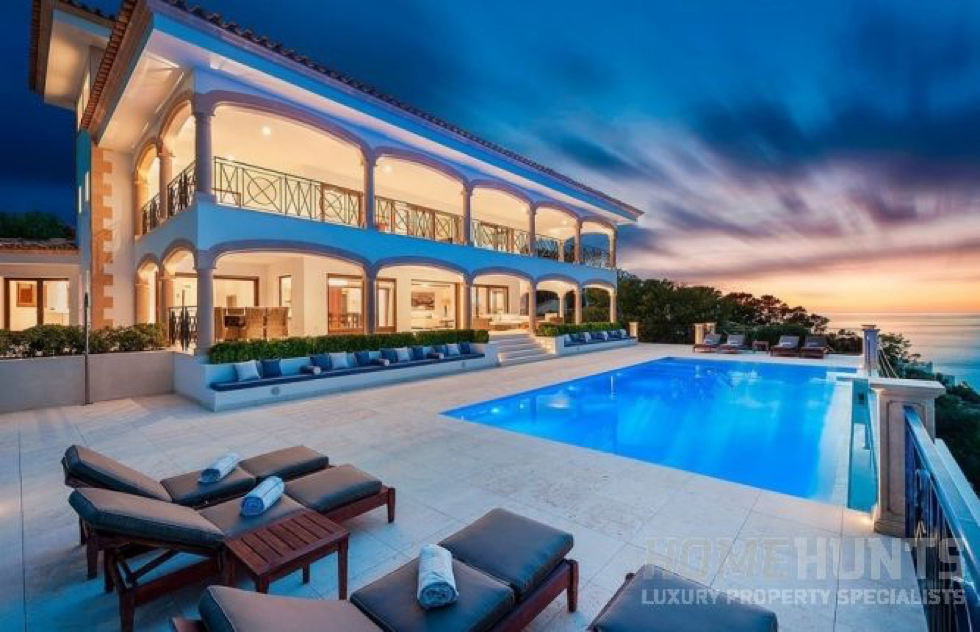 This top villa in Majorca is similar to the villa from Love Island, offering sea views and luxurious interior furnishing. Priced at 12,500,000 Euros. Contact us for more details
If you are looking for a top villa in Mallorca like the ultra-luxurious villa featured in Love Island, we have a Mallorca estate that exudes luxury and style in every corner of its interiors, with a vast sea view. Top areas in Majorca to stay in or buy properties include Puerto de Andratx, Santa Ponsa in the south west, Costa Den Blanes and Pollenca in the north.
Mallorca is popularly known as the sister-island of Ibiza and is one of the largest Balearic Island located in the Mediterranean Sea, south-east off the coast of mainland Spain. Within 2 ½ hours, British visitors can arrive in this island easily with a lot of airline operators offering 5-10 flights a day.
Magaluf is one of the go-to destinations for some party action in the island and all throughout July there is the Inca Jazz Festival. Late July-early August is the period where real holiday season kicks and many beach resorts start to host night markets. Try visiting La Llonja in Palma, Playa de Muro and Porto Cristo for some shopping and immersion in local arts and culture.
Marbella truly beats alive this summer and a part from the luxury villas, parties and concerts, annual fiestas, all held in August, are main highlights for visitors to experience and take part in. Some of the most popular are the Festes de la Mare de Deu d'Agost in C'an Picafort which is a summer festival on the beach and the Festes de Sant Bartomeu, of the oldest on the island featuring devil dancing to be held on the 23rd and 24th of August in Montuiri.
If you are a sailing and boat fan, the Copa del Rey Sailing Regatta in Palma is not to be missed. Happening in the first week of August, it is an important sailing regatta in the Mediterranean where you will see some of the best sailing yachts in the world racing around the bay of Palma. You might even be able to catch a glimpse the King of Spain at the helm of one of them!
If you are looking for top properties in Ibiza, Majorca or Marbella you can search through Home Hunts' portfolio at www.home-hunts.com
To discuss your specific needs and to find out more about locations offering the best investment opportunities, speak to a consultant directly on +33 (0)970 44 66 4