With house prices set to increase in Marbella throughout 2017, these lifestyle-enhancing prime properties will both nurture and protect your interests.
The glamorous coastal resort of Marbella is a leading holiday destination in Europe and one of the most coveted places to own property in Spain. With the Sierra Blanca mountains behind Marbella and a long stretch of golden Mediterranean beaches in front, prime properties here offer breath-taking views, an idyllic cosmopolitan lifestyle and excellent investment opportunities.
Luxury properties in the Marbella area are always in high demand and now the market has stabilised in Spain, more overseas buyers are investing as prices are set to rise again. While British buyers are the most common, French, German, Dutch, Belgian, Italian and Swedish buyers are also investing here, which also means that the region's international, English-speaking community is thriving.
If you are looking to buy a property in Marbella, here are five stunning villas with sensational sea views to kick-start your search.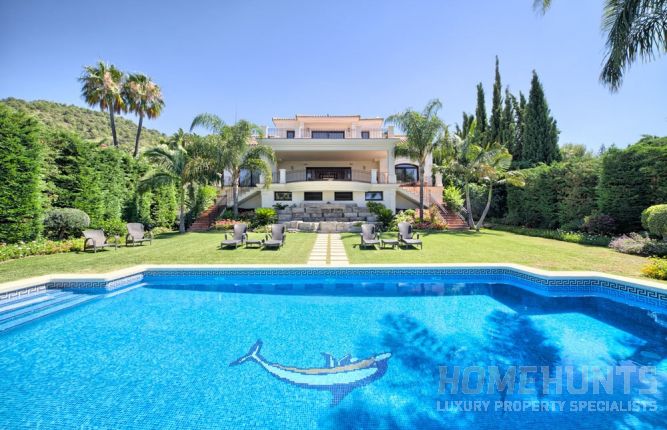 Properties in the centre of Marbella are in high demand and this sumptuous seven-bedroom mansion (HH-10743087), is in one of the town's most sought-after locations.
Not far from the heart of Marbella and Puerto Banus, it is close to all the local attractions and activities, such as water sports, golf and fashionable boutiques. But with a mature landscaped garden, large swimming pool and sweeping terraces, it is also provides the perfect setting for soaking up the sun and the stunning Mediterranean view. It is on the market for €5,475,000.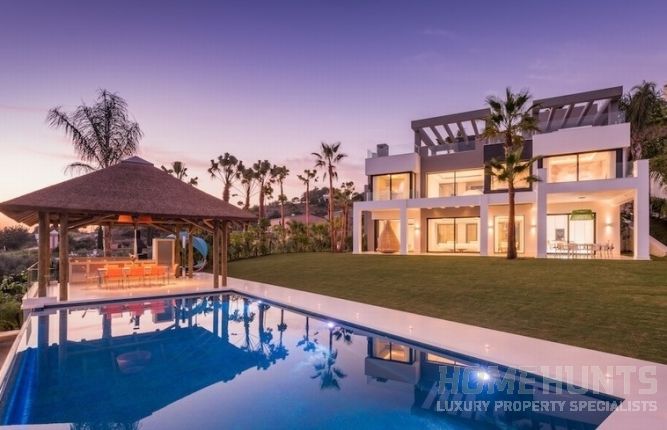 The New Golden Mile in Marbella runs from San Pedro to Estepona, and the exclusive Los Flamingos development is halfway between the two. With a five-star golf club and a spa centre, properties here provide access to an exclusive lifestyle as well as a stable investment opportunity.
This incredible five-bedroom, ultra-modern villa (HH-10584780) is south-facing and offers unobstructed views over the Mediterranean Sea. With two swimming pools (one inside and one infinity pool outside), a sauna and Jacuzzi, as well as the most up-to-date building technologies, it offers the ultimate in luxury living. This property is priced at €5,250,000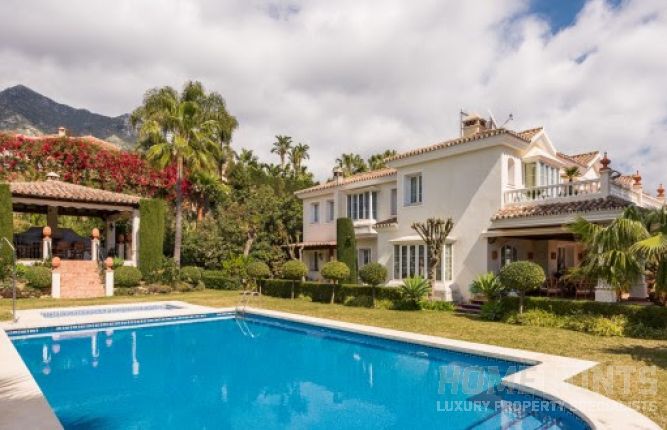 Sierra Blanca is known for being one of the most sought-after locations in Marbella and is where celebs such as Simon Cowell and Antonio Banderas own homes. Located in the foothills of Marbella's highest mountain La Concha, many prime properties here offer panoramic views of the Mediterranean Sea, Africa and Gibraltar, and this magnificent six-bedroom villa (HH-10628756) is no exception.
On the market exclusively with Home Hunts, the exquisite, opulent interior includes an enormous games room and cinema, a sauna and vast covered terraces. With plenty of palm trees and two swimming pools, this beautiful property is like no other, and at €4,250,000 it is an excellent investment for the right buyer.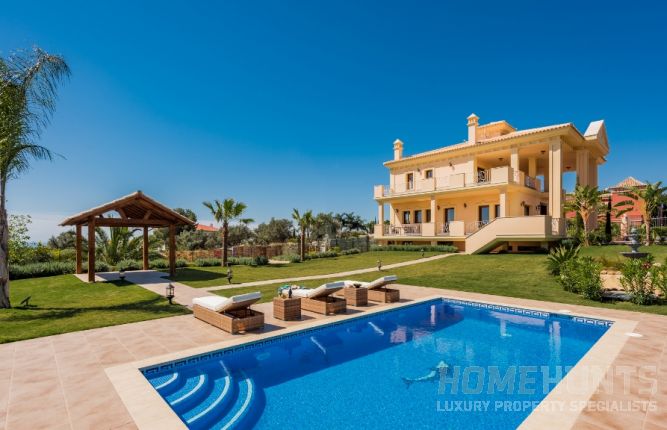 Properties that run from the West of Marbella to the Rio Verde are located on what is known as the Golden Mile. Built on the principles of Vastu Shastra, a Hindu system of architecture, this unique five-bedroom property (HH-10628763) is located in the heart of Golden Mile and has been specifically designed to encourage happiness and prosperity.
Visiting is highly recommended so potential buyers can experience the harmonious ambience the building generates. Further highlights include: beautiful sea views, a sauna, Jacuzzi and well-being area, a cinema room, and a heated swimming pool. At €3,000,000, this is a property that will not stay on the market for long.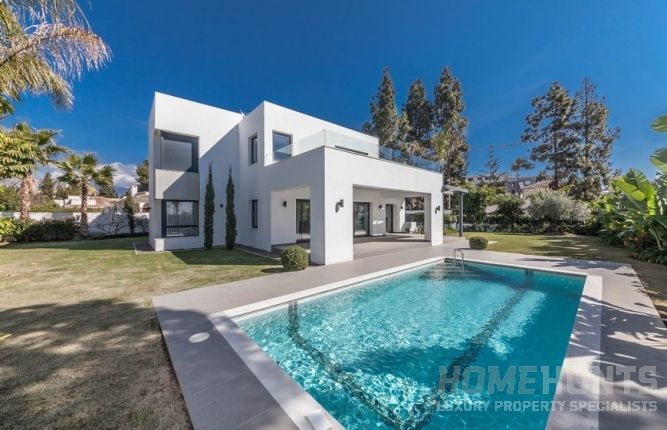 A stunning four-bedroom property along the New Golden Mile, this contemporary-style villa is just five minutes from the beach. With a modern exterior and minimal interiors, this stylish home, which is close to shops, restaurants and supermarkets, is a solid investment opportunity at €1,950,000.
On the market exclusively with Home Hunts, highlights include sea views, a sparkling blue pool and a children's area.
If you are looking to buy property in Marbella, visit www.home-hunts.com to search Home Hunts' online portfolio, but to speak with a consultant directly about your property needs, call +33 (0)970 44 66 43