So, you've bought your dream house in France, moved in, unpacked the boxes and can now make a start on finding someone to do all the jobs that need doing in the house.    Sounds simple, but instead of having to trawl through the 'Pages Jaunes' telephone directory and randomly picking out an unknown tradesman,  help is at hand and life could just become that little bit easier.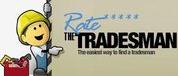 Rate the Tradesman is the only website designed especially for expats in France looking to find local tradesman they can trust. Whether you need to track down a local tiler or the best builder in the business; you can source recommended specialists from every trade with Rate the Tradesman.

The simple idea of being able to post a job that you need doing and you get replies from qualified, English speaking and reliable tradesman seems too good to be true.  But thanks to the website all the hassle of finding someone to do any job is taken off your shoulders –  from satellite dish installers to painters/decorators, plumbers, cleaners….the list is endless and the time consuming job of finding a tradesman is resolved.   The website is well-designed, clearly laid out and easy to use for both people who are looking for a tradesman and those in the business wishing to post their skills and trades on the site for prospective customers.

Rate the Tradesman is the only trade's recommendation service for expats living abroad and helps connect hundreds of people with expert tradesmen every month.

So whatever the job or whatever your trade, Rate the Tradesman is the best trick to have up your sleeve – and a job well done.
www.ratethetradesman.com