DON'T BE S.A.D
As the winter months approach for some it is the season to be jolly, head off to the ski slopes and embrace the change in temperature.  However, for an increasing number of people, the onset of grey days in the UK and many European countries, trigger serious depressive symptoms.

Also known as winter depression or winter blues, the US National Library of Medicine notes that "some people experience a serious mood change when the seasons change. They may sleep too much, have little energy, and crave sweets and starchy foods. They may also feel depressed and a lot is due to the lack of sunshine and a change in the light and length of daylight."   An estimated half a million people in the UK suffer from the disorder which affects most people between December and February.

Once the trees have lost their leaves, it's raining; the rare winter sunshine has to fight through grey skies: that's when the winter blues descend. Life doesn't have to be dreary – not when you can pop across the channel for a little sunlight burst and enjoy the blue skies and winter sunshine in the south of France.



The climate in winter is one of the best in the Mediterranean, mild during the day, with over 300 days of sunshine; it is warm enough in the winter to be able to wear a shirt during the day and a sweater in the evenings.
It is undoubtedly a different kind of light, a sunlight which is still intense and a short winter break to the Riviera or Provence coast is the perfect way to beat off the winter blues.

Nice – Price: 750,000 euros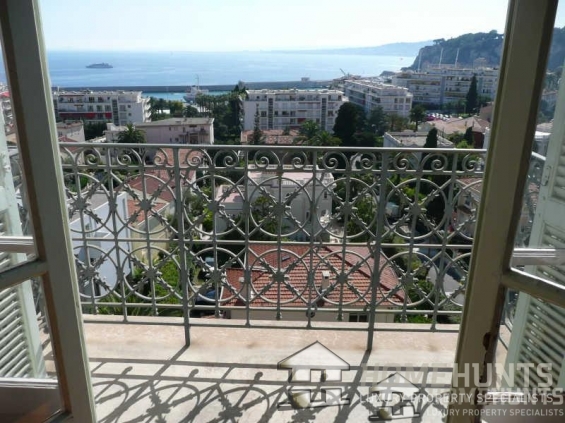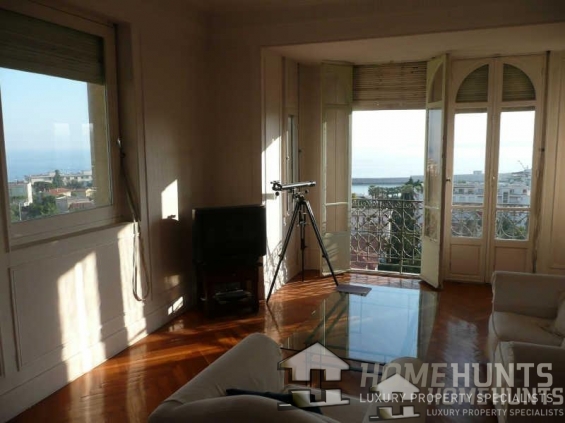 Antibes – Golf Juan – Price: 599,000 euros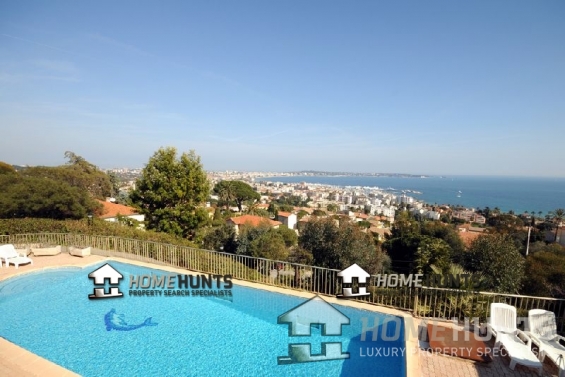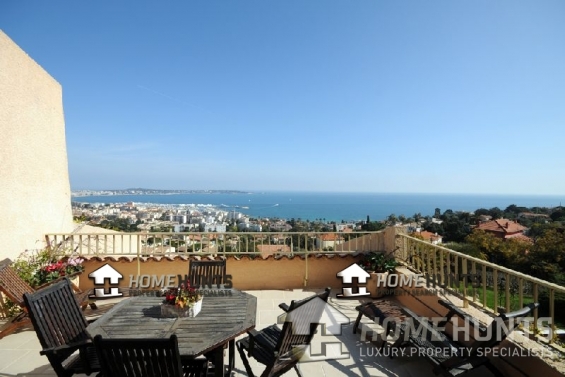 Le Lavandou – Price: 792,000 euros
If you would like a selection of properties for you to escape to then please email us with your criteria: info@home-hunts.com
WHAT CAN I GET FOR 3 MILLION?


GASSIN. Near to the sea, this property is conveniently situated in the centre of the Bay of Saint Tropez.
Built in a neo-provençal style, this house comprises: living/dining room and separate kitchen which all open out onto a large covered terrace with a barbeque, pantry, and three bedrooms including the master bedroom with a full bathroom.
There is an independent guest house comprising of a living room with an open plan kitchen, two bedrooms and a full bathroom.   The house is very open to the exterior thanks to its large sliding windows. It has been designed to allow you to enjoy the garden, the heated pool and the pool house even in the cooler months of the year. Price: 2,950,000 euros


PARIS: Paris 16th Trocadero gardens.
On the top floor of a Haussmann building, a 171 m² apartment perfectly renovated and equipped with a gorgeous view over the Eiffel tower and the Seine River. Lock up garage on the ground floor.  Price: 2, 625,000 euros


AIX-EN-PROVENCE: Situated on the vineyard trail, on the immediate outskirt of Aix en Provence, a priory dating back to the Roman era – approximately 750m² living space with a roman chapel and an interior courtyard.
The land of 3.9 hectares planted with centenary trees – pool/pond. A real quality renovation. Price : 2,850,000 euros


COTIGNAC : situated in the middle of the hills and overlooking the mountains, magnificent property of 5500sqm with swimming pool, pool house and outbuildings.
The land includes a superb house of 600sqm benefiting from a lovely terrace giving onto the mountains and includes an entrance hall, a laundry room, a store room, a mezzanine, a kitchen, a living room with fireplace, a dining room, 6 bedrooms, 4 bathrooms and a cellar.  This incredible property is the perfect place to have some rest and for nature lovers.  Price: 3,000,000 euros.


VILLAGE PEOPLE
For many people moving and looking for a place in France, being in or close to a village is one of their top search requirements.  There is something quite intimate about being part of a village – situated in the midst and centre of the daily life in southern France provides an instant insight in the community spirit.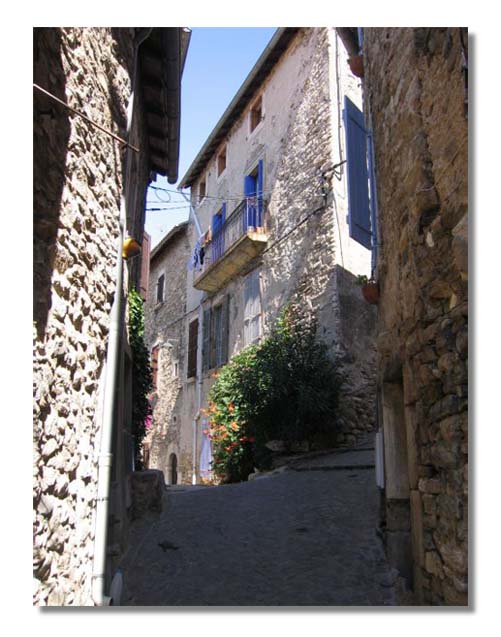 Speaking the French language is definitely one of the most important things to do. Even if you only speak a little French, do use it and your efforts will be much appreciated. The French love to hear the English try their language and many French people will agree with you, their language is "tres difficile".


One way of making French friends and start integrating into the village life is to start going to the "Boulangerie and Boucherie" at the same time each day or at least regularly from the same place. This way you will see the same people and you will be recognised, it is also a good way of using your French!  Purchasing "un pain" in France can take the average person quite some time when walking in the village, stopping off chatting to friends and acquaintances.
Many French people do their socializing in the village streets and not in their homes, so if you want to get in with local go out onto the streets.  Throughout the year, many French villages have various fetes, lotto's and markets, it is a good idea to become involved in the village activities and be seen at the events.

Throughout France there are approximately 36,000 villages and it is undoubtedly the village way of life that defines France and its 'savoir vivre'.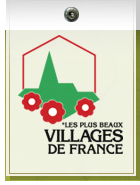 To date, 152 villages are part of the association of the famous title "Les Plus Beaux Villages de France" (The Most Beautiful Villages of France) which requires these villages to have less than 2000 habitants.  There are also 27 other strict criteria based on things such as value, diversity, quality of architecture and a wish to create excellency in the village.

Kirsten Pollard, Homehunts manager for the Aquitaine, moved to France from London six years ago.  She describes why for her and her family, village life was the best decision:

"Moving to the south of France is for many about a living a rural idyll, tucked away in the peace and quiet of the stunning countryside, but after spending our first summer living here in the coutryside, we decided that for daily living throughout the year, being in the village was our preferred option. Although I grew up in the countryside, having moved here from London, we liked to have the hubbub and sociability that living in the village has. We chose the village of Saint Cyprien, a medieval hillside village in the Dordogne valley that my partner knew from a child as his Grandfather had moved here in the seventies.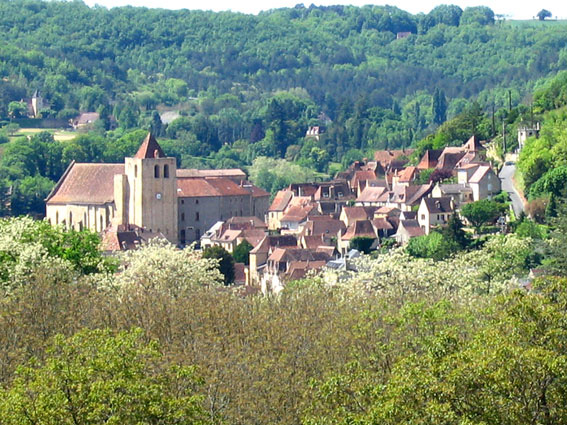 We live in the medeival quarter of the village and we have enjoyed being integrated as part of the community here, who are pleased to have people moving in, specially families with children ( we have 3), who add life to the quartier, and become substitute's to their own children and grandchildren who have moved off to lead their lives elsewhere.

For many years the population of the villages was steadily decreasing, but now it appears that there has been a turn around and many more people moving in – both French from other parts of France and foreigners. The locals seem to appreciate that this influx brings new life to the village as they often renovate previously derelict houses, open businesses and shops, and put their children in the schools. We appreciate the authenticity of the village life here that is all year round, not just overcrowded in the summer. Here they really do live that mythical laid back southern French lifestyle, sitting on the bench in the sun literally all day chatting, and until they go to bed on summer evenings, are forever popping in and out of each other's houses, and regularly get to together on the small 'place' at the top of the hill for the customary aperitif, as well as having an annual summer meal that the whole quartier is invited to. Our youngest, being born at home here 'sur place' is definitely considered as having her place here – she is to the locals the mascot of the quartier!

There is another practical side to being in the village from the convenience point of you – everything is within walking distance – those strolls to the boulangerie in the morning sunshine are one of those blissful moments that I savour, and remind me I'm in France. The kids can walk to school by themselves and come back for lunch. The neighbours are always looking out for each other and there is a genuine sense of community, and the people do have a certain contentedness about them. We also get offered their freshly picked mushrooms in season and freshly caught fish from time to time! During the summer months we have a constant source of entertainment on our doorstep, be it watching the tourists walking up and down the hill and peering in our windows, or the various events that happen throughout the year.  I would be lost without them."
For those of you who love coffee table books – one particularly lovely book by Marie-France Boyer' titled 'Village Voices' is a wonderful collection of stories and photographs which captures the charm of rural French villages.



Here are a selection of village houses currently available:

The Luberon:
Magnificent C18th village house with courtyard and a jacuzzi. This charming stone house, set in the heart of a quiet area, offers a garden where one can put a small pool.  A living space of approx 160m2 and an additional 52m2 still to be arranged.
There is a living room with open kitchen, summer kitchen, study area, 3 bedrooms of which one has a bathroom, dressing room and a balcony. Shower room, laundry area and an attic. A terrace on the second floor, a vaulted cellar and a garage. The house also has a lovely view of the Luberon.  Price: 845,000 euros


Maussane les Alpilles:
Charming stone-built 160 m² house, in the center of Maussane-les-Alpilles.
Four bedrooms, living/dining room, terrace, 2 bathrooms, 2 WC,  7 x 3.5 m Heated swimming pool salt filtration pool house: laundry room / pantry, small wine cellar, lounge (pool) engine room, shower. Price: 790,000 euros


Uzes:
In the heart of a village with commodities close to Uzès, this pleasant renovated house of 180 m² offers the possibility to run a shop on its ground floor. The living quarter is on the 1st floor and includes a kitchen leading to a dining area set on the terrace, a lounge with fireplace, a large living room, and an ensuite bedroom with shower.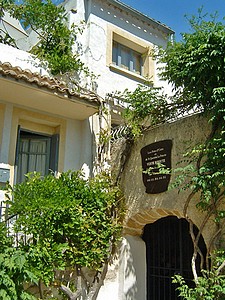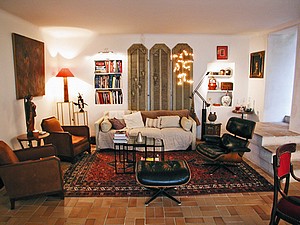 On the top floor, we have 2 bedrooms, one large bathroom, and a solarium terrace. A courtyard with a Jacuzzi area offers an outside space to relax.  Price: 495,000 euros

Antibes old town:
In the very heart of Antibes old-town, this wonderfully restored house oozes charm.
With old beams and most of the original features retained, the views are over the sea and the port, with less than a minutes' walk to all the local amenities, beach, restaurants, market etc. This is a rare opportunity to buy into a dream. The sea is really on your doorstep! Set on four levels and renovated with great taste, there are two double bedrooms en-suite, a large open living area and an enormous kitchen dining area.  Price: 1,325,000 euros
Languedoc Roussillon – Carcassonne
Three characteristic village houses with large former wine cave, swimming pool, and 1500 m² land. The main house 200 m² has 3 bedrooms and the two other spacious houses are being used as gîtes, with 3 bedrooms each, generating a reliable income. All houses are well renovated (double glazed windows and individual central heating systems) and tastefully decorated.
Main detached house with many original features, offers about 200 m² living space on 2 levels and an attic, easily convertible into an additional living area with bedrooms.  Ground floor: kitchen 20 m², hallway with toilet and staircase 6 m², spacious living room 52 m² with oak floor, dining room (to be decorated) of 27 m².  First floor: 3 bedrooms, one en-suite and large main bathroom (originally a chapel).
2nd house is the former 14th century presbytery is fully and stylishly renovated. one side is attached to the church. Ground floor: large living room, dining room and fully fitted kitchen, toilet. First floor: 2 bedrooms and bathroom. Second floor/mezzanine: an alternative living room and third bedroom with bathroom and toilet. Beautiful exposed stones. South facing terrace at the front of the house
3rd house has its own south facing terrace with small patio. Spacious entrance hall with shower room and toilet. Living/dining room with open kitchen. The staircase in the entrance hall leads to the first floor. First floor: 3 bedrooms and bathroom. The attic at the top floor is light and airy, ideal for conversion into additional living space. 1500 m² of land, with a large 2 storey barn (former wine cave), garage, a stable which could easily be converted into a 2 bedroom house or workroom, a well, a very private swimming pool 6 x 8 m at the bottom end of the garden with lounging area.
An absolutely fantastic opportunity and suitable for 3 families or a great investment opportunity for rental income.  Price: 660,000 euros.


Dordogne: St Cyprien
Beautiful and rare authentic town 'chartreuse' in sandstone set in centre of a popular medieval village with all amenities in the heart of the Dordogne valley. Excellent condition throughout, immaculately restored, 300 m2 living space, 5 bedrooms and unique secluded patio courtyard with a further sunken patio with a total of 300m2. All within minutes walk of shops and conveniences.
Ground floor: 150m2 comprising of entrance hall, living room with fireplace and woodburner, kitchen, pantry, 2 bedrooms including master suite with ensuite bathroom, shower, wc.
1st floor: 3 bedrooms, shower-room, wc. Possibilty to make further bedroom in attic of 50m2.
Basement: 80m2, laundry room, cellar, two garages.
Exterior: Unique large patio courtyard, a third of which is covered, barbecue, as well as a further sunken patio, total 300m2.  Oil central heating and wood burner. New boiler and water softener. Electricity re-done, new parquet floors, new garage doors, and new built-in wardrobes in all bedrooms.
A great property for someone wanting the ambiance of authentic French village life.  The property is in the most popular quartier of a charming classically Dordogne medieval village, with the convenience of all the shops and the high street just round the corner, yet having an elegant and spacious property with its own totally private and peaceful courtyard, and easy maintenance, which is rare to find in a village. This would also suit commercial activity such as B&B or gite and can have separate entrance for guests. Price: 585,100 euros


Var: Fayence
Breathtaking view and complete tranquility for this village house with charm plus a garden.  2 bedrooms and a shower room.
There is a large living room with chimney leading to a covered terrace, fitted kitchen, wc and wine cellar.  Independent studio plus parking.  Price 530,000 euros.


If you would like more information on any of the above properties or are interested in buying a village property please contact: info@home-hunts.com


GETTING THE MOST OUT OF YOUR MONEY


Over the past eighteen months individual consumers have been exposed to a great deal of information about 'the markets'.  Saving money on banking products and services is topical and for those moving abroad or already living there this is characterized by a newly acquired knowledge of specialist areas like foreign currency and international payments.

As banks widen their margins and increase their costs, specialist companies are afforded the opportunity to offer a level of competitiveness that these big banks struggle to match.
The trouble is that most consumers assume that because banks are the default facilitators of electronic transfers domestically, they are best positioned to do the same when transferring internationally.  It is implied that the only source of rates and security of funds is the bank; but is not so.

Personal foreign exchange is an often overlooked but important element of an international transfer.  Any bank or even non-banking Payments Institution can move funds from A to B, but the buying and selling of the associated currencies (FX) is a specialist operation.  Both banks and non-banking 'brokers' need trusted liquidity sources and sufficient capital adequacy to sustain trading in this market; as with the banking sector there will be those firms with better resources than others, but the key to the appeal of the specialist firm is aggressive pricing based on turnover and competition.

Non-banking foreign exchange firms or 'brokers' are wholesale buyers and sellers of foreign currency and in essence they buy large amounts of currency from a bank.   Whereas the banks are adept at making electronic payments for their customers and also accommodate their peripheral currency requirements, a specialist broker excels in the buying or selling of the currency and compliments that with standardized and regulated transfer facilities, the cost of which is incorporated into the rate that they offer you.
Jamie Lesinski, the private sales manager of Currencies Direct offers his advice on two of the most frequently asked questions regarding non-banking firms:   "How do you make your money?" and "How safe are my funds?"

Well, the first is easily answered.  Having bought euros from the bank the broker marks up the value when selling to the individual.  Consider a euro as a loaf of bread.  When the bank sells to the broker he retains one slice.  When the broker sells to the customer he also retains a slice.  If the bank were selling directly to the customers he would retain four or five slices.  So in essence a good and reasonable broker has the capacity to be three to four times more competitive than the high street.  The fractions by which the rate can be improved may seem tiny when you view the actual points or digits, but the savings on both larger and smaller amounts are tangible and potentially considerable.  Essentially a broker is selling euros to you, the customer, at a more competitive price than the larger more costly bank.  The profit margin is considerably smaller for the broker, but so variables such as overheads provide the broker with a viable operational and profit margin and a competitive and sustainable edge.

Concerning the safety of clients' money, that is dependent on the market.  Over the past year much has been expounded about the cost of living overseas, the value of property and the direction of the GBP/EUR.  Property vendors have been incentivized to lower their prices because they can mitigate the systematic loss in the value of their house by a gain the value of the euro.  Equally the depreciation in the pound has asphyxiated the flow of international buyers whose activity sustained a large number of both English and French speaking agents.  Two camps have emerged.  Buyers who have seen their dream home go up in cost (also expats who have seen their income or pensions go down in yield) with the drop from 1.35 to 1.08 are hanging on a longer term optimism of a sterling rally.  Conversely new interest entering the French market have borne witness to the pounds buying power increase, all be it fractional, from 1 to 1 a year ago to a more favorable sterling ratio averaging at 1.10.    It is these new buyers, whose budget reflects the immediate worth of their capital as cash, coupled with an increase in cross border European buying, which are driving the overseas property market at the moment.

High-end niche second homes have retained their inherent value, but the stock of 'same day' buyers has diminished proportionate to the rate.

The traditional British destinations such as the Languedoc and Dordogne still remain popular, but a buyer's motivation has changed.  The buyer is driving the market, more by circumstance, because the 'credit crunch' has cultivated an environment where cash is king and the vendor wants a quick sale for reasons already mentioned.  Although the average transaction size for the year 2008/09 has been slashed by over a third, activity for France has, as far as Currencies Direct is concerned, increased by over 45%.  This is in part due to our strategic positioning within the industry, but it must be conceded that a new breed of buyer has entered the market, and this buyer's focus is on 'value for money.'
It would be very easy to offer any number of forecasts or predictions with regards to the trajectory or GBP/EUR, but these would rely heavily on ifs and buts.  So, cash buyers would do well to price their pounds at 1 to 1 when beginning their search.



Clients new to private foreign exchange companies should look at the turnover of a firm, how long they have been trading, and their awareness of the industry and competitors, particularly banks.
www.currenciesdirect.com

LET'S GET THIS PARTY STARTED…


Ibiza: cool, hip and as pretty as the people who go there – anyone who is looking to buy a luxury apartment on this stunning island need look no further.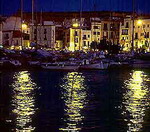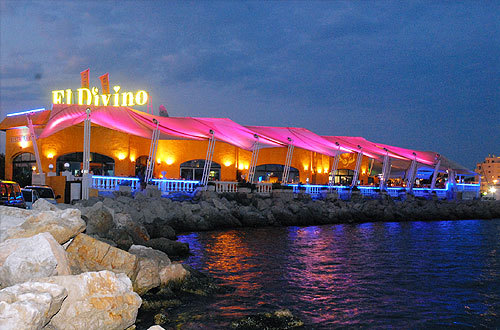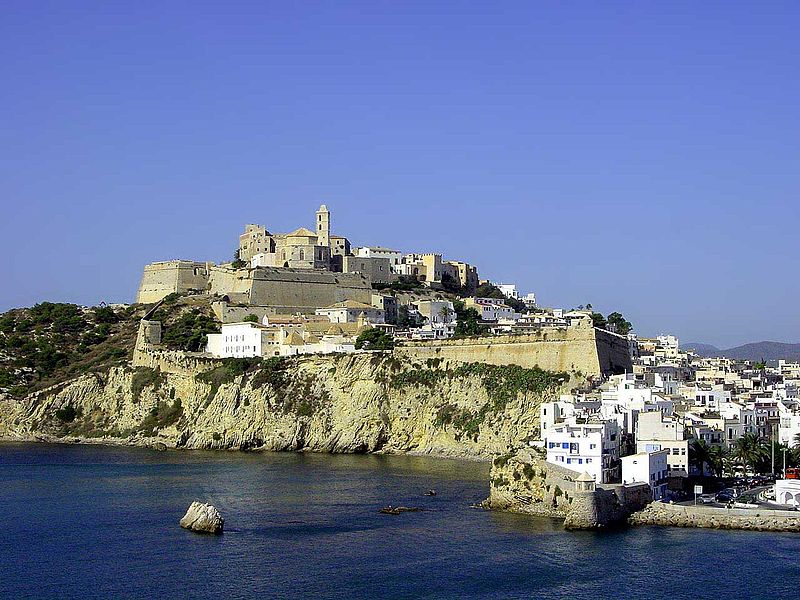 The nightlife in Ibiza is nothing short of spectacular. Over the years, the island has transformed itself from what used to be a mecca for hippies, into the hotspot of nightlife in Europe.  Clubs such as Pacha and Space have a huge following of loyal partygoers and the smaller more exclusive El Divino has a mixture of richer clients, amazing music and great location being situated next to the marina.

Located in the most fashionable part of the city, the SA Marina development is on the Paseo Maritimo and most apartments enjoy stunning views across the harbour to the old town of Ibiza & Dalt Vila. The building consists of 27 apartments, with one to three bedrooms, and partially covered spacious terraces.  The ground floor apartments have private gardens, there is ample parking available below the building and security measures, including access control, have been installed.
The apartments are offered for sale, fully furnished and the interiors have been designed by Conran & Partners, and furniture carefully selected from companies such as B&B Italia, Minotti and Moroso.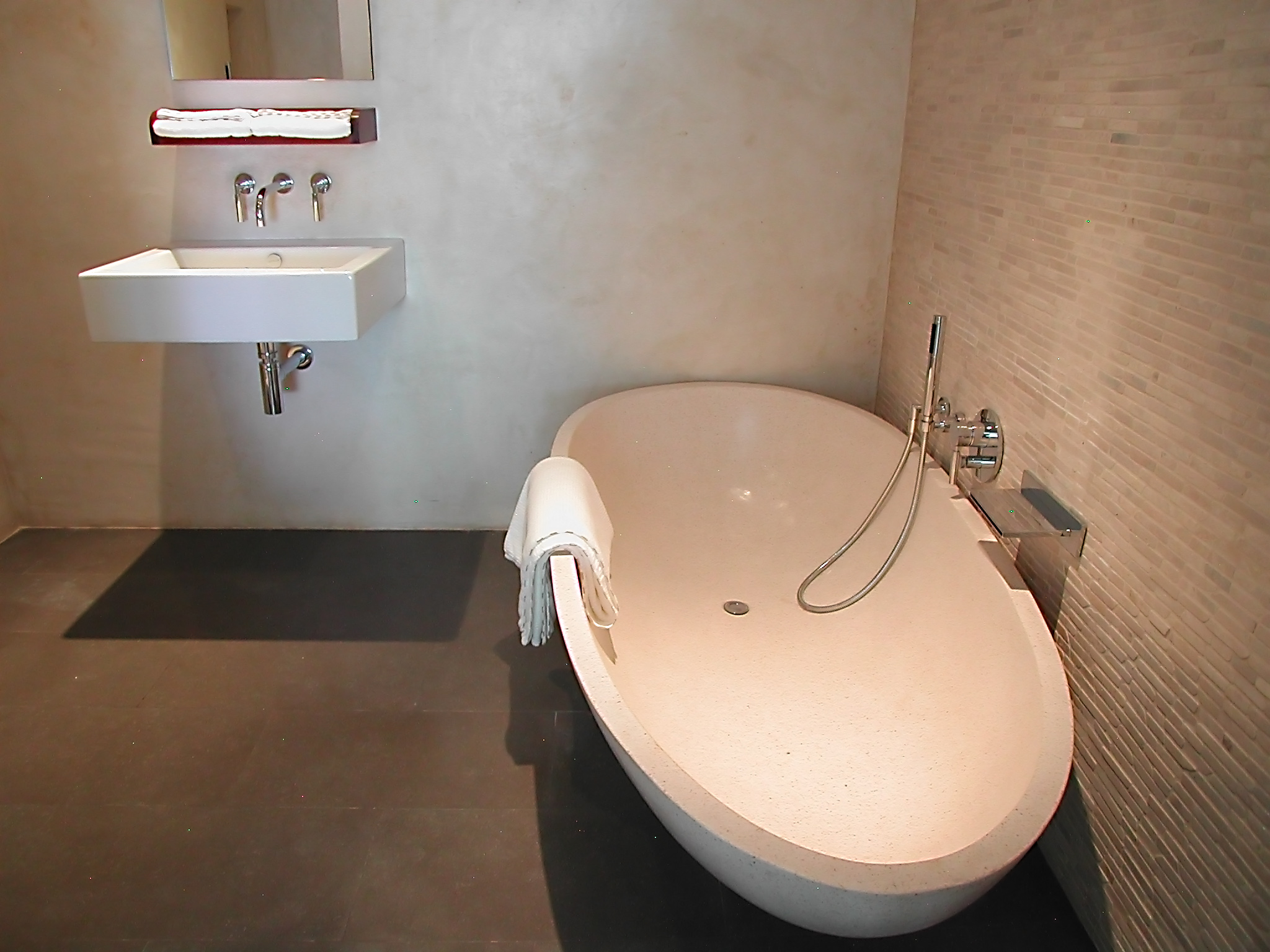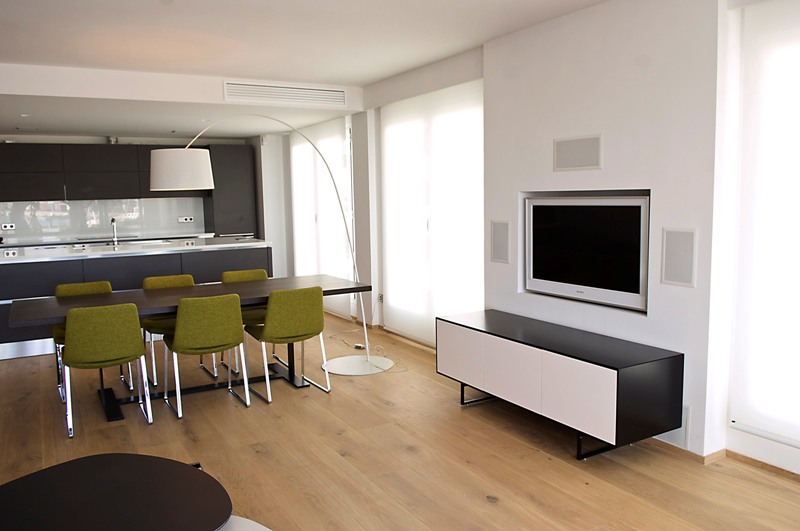 Every detail has been thought of, even down to an extensive music collection which is pre-installed on the state of the art music system. If you enjoy cooking, the apartments are fitted with beautiful Italian kitchens from Veneta Cucina but if you prefer to eat out, there are many good restaurants just a short walk away. Once the dinner has finished you can put on your dancing shoes and head towards the clubs: Pacha and El Divino are only a short walk away, as is the new Casino at the five-star Gran Hotel where, in the daytime, you will also be able to enjoy to their world class Open Spa complex with its beauty, fitness and spa facilities. Each apartment comes with free membership at the Open Spa of the Gran Hotel for two persons for the first year.
As all of the apartments include a sophisticated security system complete with internal security cameras (that you can check on from anywhere in the world) you have peace of mind that your apartment is secure whilst you are away.
Apartments on the 1st floor start at 514,700 euros for a 2-bedroom apartment facing inland, and 652,000 euros for a 2-bedroom apartment with sea view.  (prices excluding VAT 7%)
Prices rise to 1.6 million euros for a 3-bedroom apartment on the 3rd floor with sea view and 230 m square of terrace.  Ground floor apartments with private garden are available starting at 830,000 euros.

But it is not just the party scene which rocks Ibiza; thousands of years of history can be explored on the island.  The landscape and scenery in general is beautiful and there are many activities such as surfing, sailing, hiking and diving.

In Ibiza, anything goes, and investing in this jewel in the Mediterranean Sea could be one of your best moves.

For full details of the apartments in the Marina resort please contact: info@home-hunts.com


HOME AT LAST


Whether you have been looking for 2 weeks or two years it is often a case of "coup de coeur" as they say in French, an instant reaction to falling in love with a property.  Tony and Pam Shearer had been looking for about two years when they contacted HomeHunts.  Here is their experience:

"My husband Tony and I had been looking for a house in France for about two years, and had made many trips backwards and forwards from our home in London.  We were puzzled by the lack of service provided by most of the estate agents we encountered – either they seemed completely unmotivated to sell us anything at all, wanted to offload something onto us that had been languishing on their books for years (usually with good reason) or showed us one completely inappropriate property then never contacted us again.  We felt we had been quite specific about our requirements and made it clear that we were serious buyers and not just dreaming holidaymakers.

Our brief was simple (and probably very common): a recently and tastefully converted stone house with three bedrooms, summer kitchen and pool, within walking distance to, or in, a village with shops and services.  It was amazing how this brief was variously interpreted: a large ruin in the middle of acres of orchards with a family of owls living in one of the bedrooms; a house so deep in the forest that it would have been twenty minutes' drive for a loaf of bread; a mid-19th century mas with rococo fireplaces and purple paint everywhere and a house with carpeted ceilings (a low point).  One of the more active agents thought nothing of calling us in London several times a week with details of houses but then refusing to tell us where they were!  I can only assume he thought we might immediately leap onto a plane and make a private offer to the vendor …

Then one day when I sent off an email enquiring about a property, I got a reply almost straight away from Home Hunts.  I'd never heard of Home Hunts but I am very grateful that I stumbled across them.  Within days, the consultant assigned to us had lined up half a dozen or so properties within our chosen area and price range and we were planning another trip to France.  Having organised visits to agents myself on previous visits, I know how time-consuming this can be, and it's even more difficult when you don't know the distances involved.  I was very pleased to have someone to do this for us!

The third property we saw was an instant 'yes' for us and we made an offer straight after the first viewing.  We were lucky in that the house had only been on the market for a few days (unlike many others we had seen in the past which had been on the market for up to two years).   Home Hunts were also very helpful in advising us on how to buy the property.  French inheritance laws are very different from those in the UK and can be a minefield to the unwary.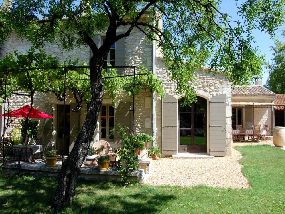 We'd bought loads of books on buying property in France – most of them full of horror stories of what can go wrong.  Actually we found the buying process remarkably easy and much more efficient than the British system.  For one thing, in France you have a notary who acts impartially for both vendor and buyer.  The notary's fee is a fixed percentage of the purchase price, so you know from the outset what the cost is going to be and there are no hidden extras.  This is much more efficient than the 'adversarial' system we use in the UK where two solicitors stretch out the conveyancing process for as long as possible in order to increase their fees!

In France it is unusual to get a full structural survey done (although you can if you want to).  Instead the vendor pays for a full technical survey to be done on the house, which includes things like energy efficiency, the presence of lead and termites and gas and electricity safety compliance.  Again we found this much more useful than all the surveys we've had done in the UK where the surveyor has covered himself with so many caveats that the report wasn't worth the paper it was written on!  We received this report within ten days of our offer being accepted and exchanged contracts in two weeks, which is normal for France.

Completion (about six weeks later) is a bit more of an occasion in France than it is in the UK, where a call from the solicitor is usually all that happens.  The vendors and buyers all sit round the table together with the agent and the notary and the notary goes through every page of the contract.  This is no mean feat since the French love paper, and everything has to be signed on every page (this seem to apply equally to opening a bank account, signing up for services and just about everything else).   Our notary had had the foresight and courtesy to ask an interpreter to sit in on the meeting just to be sure that we understood everything.

We were very lucky to have a great team working for us and we found the purchase process quite painless (other than the fluctuating fortunes of the pound against the Euro in the weeks leading up to it, of course.)  We had Nicola (our consultant) helping us at every step of the way.  I have been told I can't heap praise upon her because she also writes and edits this newsletter, but if anyone would like to contact me for a reference my email address is at the bottom of this article!  Our notary was brilliant (SCP Pierre Amalvy of Maussane-les-Alpilles) and called us in London to keep us informed of progress in his near-perfect English.  The partner estate agents who sold us the house, Claude Segalin at Michael Zingraf in St Remy de Provence and his assistant Anne Sortais, deserve a special mention as they could not have been more friendly, helpful or professional and we shall always be grateful to them for welcoming us to their town and being so supportive in our first weeks there.

As for our new house – well, it has been hard work, but we are enjoying it immensely.  We decided we wanted to source all our furniture locally wherever possible, and so far that's what we've done.  We are lucky to live on the outskirts of a lovely busy town with everything we could wish for near at hand.  We had a few problems such as the Mistral suddenly arriving and blowing out the hot-water heater (a local hazard, we are told) and Orange France's bizarre failure to deliver any kind of telephone or internet service at all – despite our having booked it weeks in advance from the UK and despite fervent attempts to get any sense or facts out of them once we arrived in France!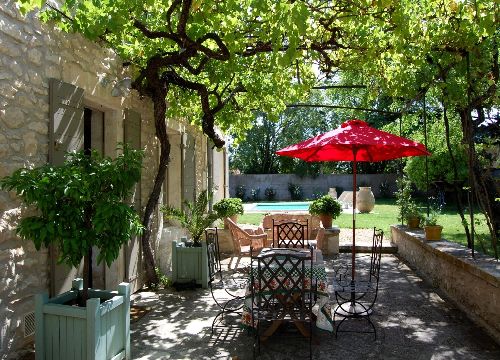 We were very impressed that we were able to find so many skilled people to help us so quickly.  By the end of the second week we were in contact with a blacksmith, a cabinet maker, a gardener/pool keeper, a housekeeper and a builder.  Our house doesn't need much work, but since we are not planning to be there all the time, we were keen to find people who could look after things in our absence.  We couldn't help thinking that after decades of living in London; we still haven't managed to build up a list like this in the UK!

The best part of all has been sitting down (in our temporary garden chairs) at the end of a long day, raising a glass of local red wine and looking out onto our terrace, where the hundred-year-old vine sags under the weight of sweet blue-black Muscat grapes, all ours for the picking.

Salut!
Pam & Tony Shearer
pammapes@btinternet.com


IT'S SNOW TIME!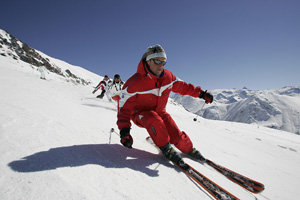 Nestled in the heart of the Chamonix Valley is the old village of Argentière. It is set in some of the most breathtaking scenery of the Alps, beneath the rugged peaks and glaciers of Les Grands Montets.
Argentière offers probably some of the most challenging skiing in the Alps. Expert skiers are drawn to this mecca of off-piste skiing and boarding with its world famous couloirs and steep gullies of the Grands Montets providing exhilarating runs.  To accommodate beginners and children, there are also the gentle nursery slopes of Les Chosalets with a number of excellent local ski schools, and the immaculately-groomed wide-open sunny nursery slopes in the old farming village of Le Tour.

But Argentière is not only known for its excellent skiing resources.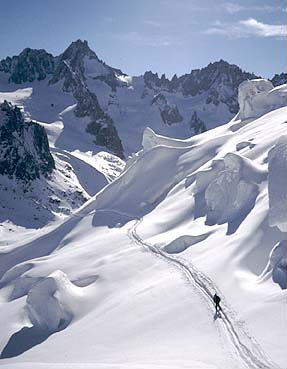 In fact, its mountaineering facilities are even more famous and the list of sports and leisure activities doesn't end there: from paragliding to bowls, from hang-gliding to golf, walking and mountain-biking – there is a vast selection of pursuits on offer all year round.
The old Hotel du Globe was Phase One of the project and is now almost complete with only one apartment remaining for sale.  The hotel was built in 1890, and the original exterior has been preserved as it is a heritage-listed building it has been re-furbished to replicate the original scheme.
Hotel Du Globe was upgraded with a new zinc roof, granite lintels, refurbished terraces and decorative forged-iron balconies. All apartments have the very latest fittings and appliances, as well as a secure underground garage

Phase Two of the development is Clos de la Croix Blanche, adjacent to the original hotel.
Clos de la Croix Blanche also offers secure underground parking and has been designed to blend sensitively into the environment. Its interiors and fit-outs will be of the same high standard of the Hotel Du Globe, giving you the optimum alpine experience.   The Clos has been awarded the kitemark for environmentally-friendly construction by What Green Home.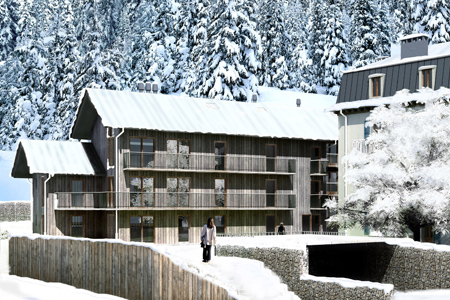 They have been constructed using the highest quality materials and built with the finest craftsmanship and are available to buy fully furnished or unfurnished. All have under-floor central heating with elegant parquet floors complete with wood stoves or fireplaces.  High-quality marble and stone finishes, plus fully-fitted kitchens and bathrooms with the latest appliances complete the chic interior.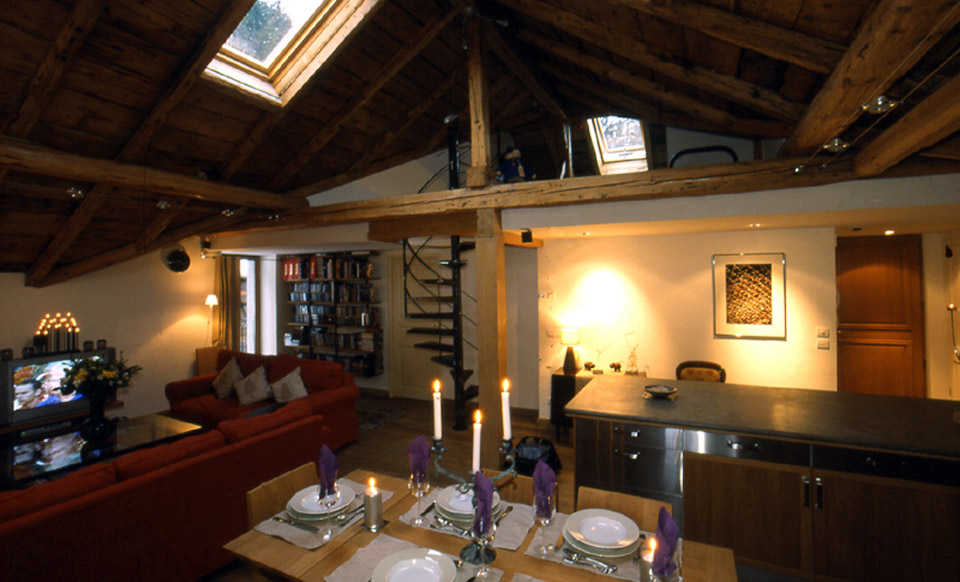 The interiors have neutral colour schemes ensuring any furniture and accessories you'd like to introduce will fit easily into their new home.  It will house three apartments and three townhouses ranging from 100sqm to 125sqm. Each apartment has a balcony and terrace with spectacular views of the mountains.  Prices start at 1,240,000 euros.

Take a deep breath, breathe in the mountain fresh air and be a part of this luxurious alpine dream.

For full details on the Clos de la Croix Blanche please contact: info@home-hunts.com


SPARK AT THE END OF THE YEAR
According to an article last week in The Wall Street Journal, after sharp falls during the credit crisis, prime residential property prices in Europe are beginning to regain their poise, fueled by investor appetite for direct investment opportunities, cheap money and exchange-rate advantages.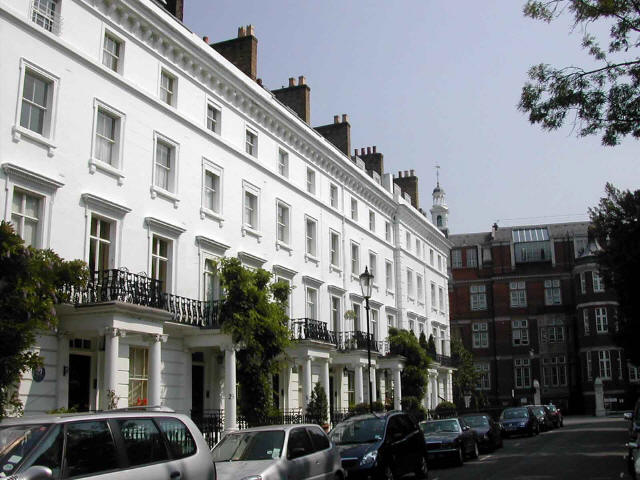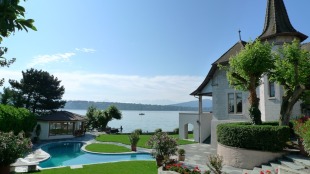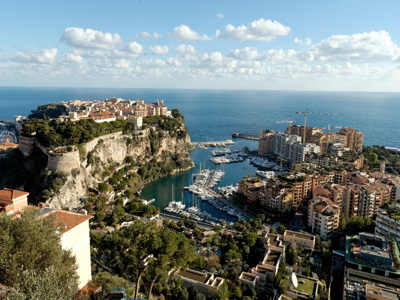 London is leading the charge, but residential property in Switzerland, Monaco and the South of France is also sparking to life.

Knight Frank stated that 30% of its deals in the prime central London market were sealed in October and September and Savills reported a similar rise in activity during the same period.

Many wealthy buyers are taking advantage of cheap mortgage deals to finance purchases. "Buyers see prime property as a low risk means of generating cheap capital," said London property consultant Charles McDowell.

Despite the property price difference in 2007, demand for prime properties in Monaco remains buoyant. A number of apartments in the principality were placed on the market for a staggering €50 million last summer, helping to cement Monaco's reputation as the world's most expensive place for residential property.

"Demand is coming more for studio and one-bedroom properties, between €1 million to €3 million," said Jean-Claude Caputo, head of Riviera Estates.  Mr Caputo also confirmed the constant demand for the Riviera properties: "International money continues to flow to places like Antibes, St. Tropez and other exclusive areas – this is where the real demand is in the region."