BEHIND CLOSED GATES
Long gone are the days when buying a property on a gated community, or domain, was considered to be a bit of a "second choice" or not very fashionable.  The exclusive domains today, especially along the Cote'Azur, are attracting many second-home buyers looking for luxury, style and above all total security.
The benefit of living in a managed environment means that buyers are not restricted to apartments, which are a good option for investors and buyers but don't always give the space and freedom of a house and garden.    This means that families can enjoy their own pool, private garden and still "lock-up and leave" with overall peace of mind. Some domains also have communal facilities (as well as private) such as swimming pools and tennis courts, so owners also have a choice of meeting up with other families and friends.
In Valbonne,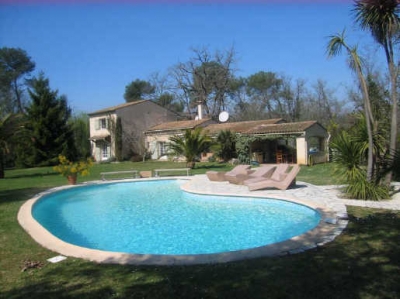 on one of the most residential domains, is a beautiful property on 5300sqm of park, nice living room with fireplace, large modern and equipped kitchen, master bedroom with bath and study area.  There is also a separate large guest apartment and the property is on flat land with pool, pool house, and guest house. Double garage.  Price 1,350,000 euros.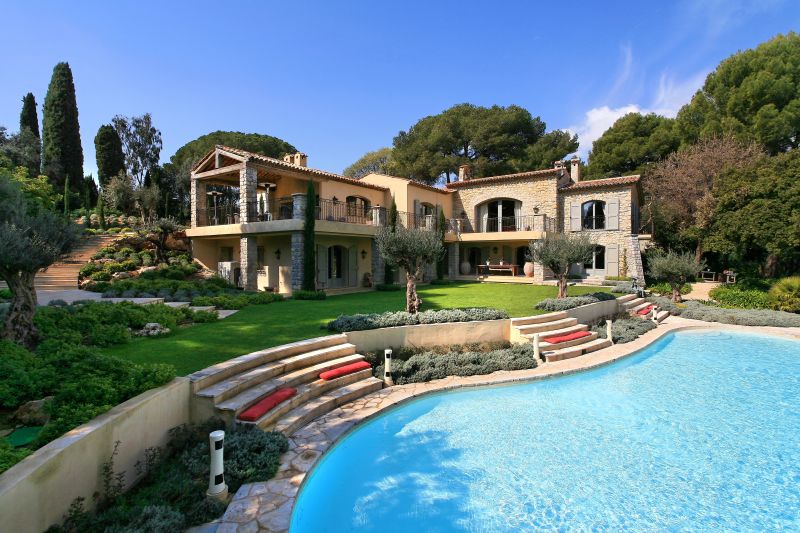 In Biot, occupying a sensational elevated position, a superb property is for sale on a private domain with vast heated swimming-pool and tennis court. The villa has been entirely renovated and offers very high quality fittings and stands on over 10000m2 of land with a great sea view. Price 9,800,000 euros.
Also in the Valbonne area,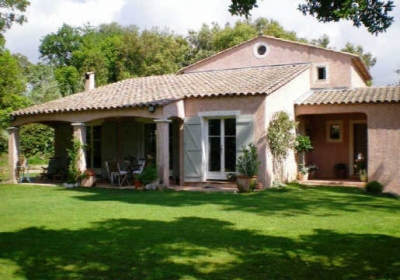 a charming house in perfect condition villa in a secured domain with pool, tennis and caretaker, near schools. Lounge, independent kitchen fully equipped, 4 bedrooms, 2 bathrooms on a plot of land of 1450sqm, garage, and residential very quiet area. Price 840,000 euros.
ALL IN GOOD COMPANY
Buying a property in France through an SCI
A common way of buying a property in France is through the use of a Société Civile Immobilière, or SCI. The use of this method has benefits for French residents, as well as foreign residents.
An SCI is essentially a fully incorporated company with a registered office in France and this office can be the property itself. The SCI then owns the property in question. Being a company, the SCI is itself owned by shareholders, in most cases, family members. The shareholders can be resident or non-resident in France.  There are a number of advantages of an SCI particularly concerning inheritance.  French law dictates that upon the death of the home's owner, the property is divided up between the surviving spouse and any children.
The decision about what to do with a property,is passed on to the widow and any children either from that marriage or previous. This can be potentially "uncomfortable" where stepchildren are involved. However, using an SCI and its shareholder status means that the parents can appoint themselves as majority shareholders.
They can make provision that upon the death of one or the other that his or her shares are passed onto thesurviving spouse, therefore ensuring that the controlling share remains in the hands of the parent, and any decision regarding the property belongs to the partner of the deceased.
Where succession remains the issue, shares in a company are easier to distribute than immovable property and so managing inheritance, and transferring the property, is simplified.  If you would like more information on any tax/mortgage/financial matters concerning your property purchase in France please contact: info@home-hunts.com
IT'S FR2DAY!


FR2DAY.com is a sassy, punchy new online lifestyle magazine which has just been launched on the Cote d'Azur, home of the Cannes Film Festival and the Monaco Grand Prix. The official launch party is on the opening night of the Cannes Film Festival (May 13th) and it promises to bring A list glitz and glamour to readers every week.
Unlike anything seen on the French Riviera before, FR2DAY.com is the sister magazine to uber-trendy LA2DAY.com and will provide a comprehensive Time Out-style guide to the area, covering all the nooks, crannies and hidden treasures that traditional guide books miss. Written by locals and updated weekly, it will carry information that only those who live here are in the know about, giving the real inside deal on news, showbiz, local talent, art exhibitions, shopping, food, style, fashion, homes, travel, social events and what's on from Monaco to Marseille.
Launched by entrepreneur Wayne Brown and top UK entertainment and showbiz writer Karen Hockney, the first issue contains a guide to the best nightlife that Cannes and Nice have to offer, the locals pick of fantastic French Riviera restaurants to suit all pockets and where to go dancing after midnight in St Tropez as well as the best boutique hotels in the South of France, the hottest homes to rent, the most fabulous beach clubs and the funkiest new bars and clubs on the block.  Be there or be square.
OUT WITH OLD LUXURY, IN WITH GREEN LUXURY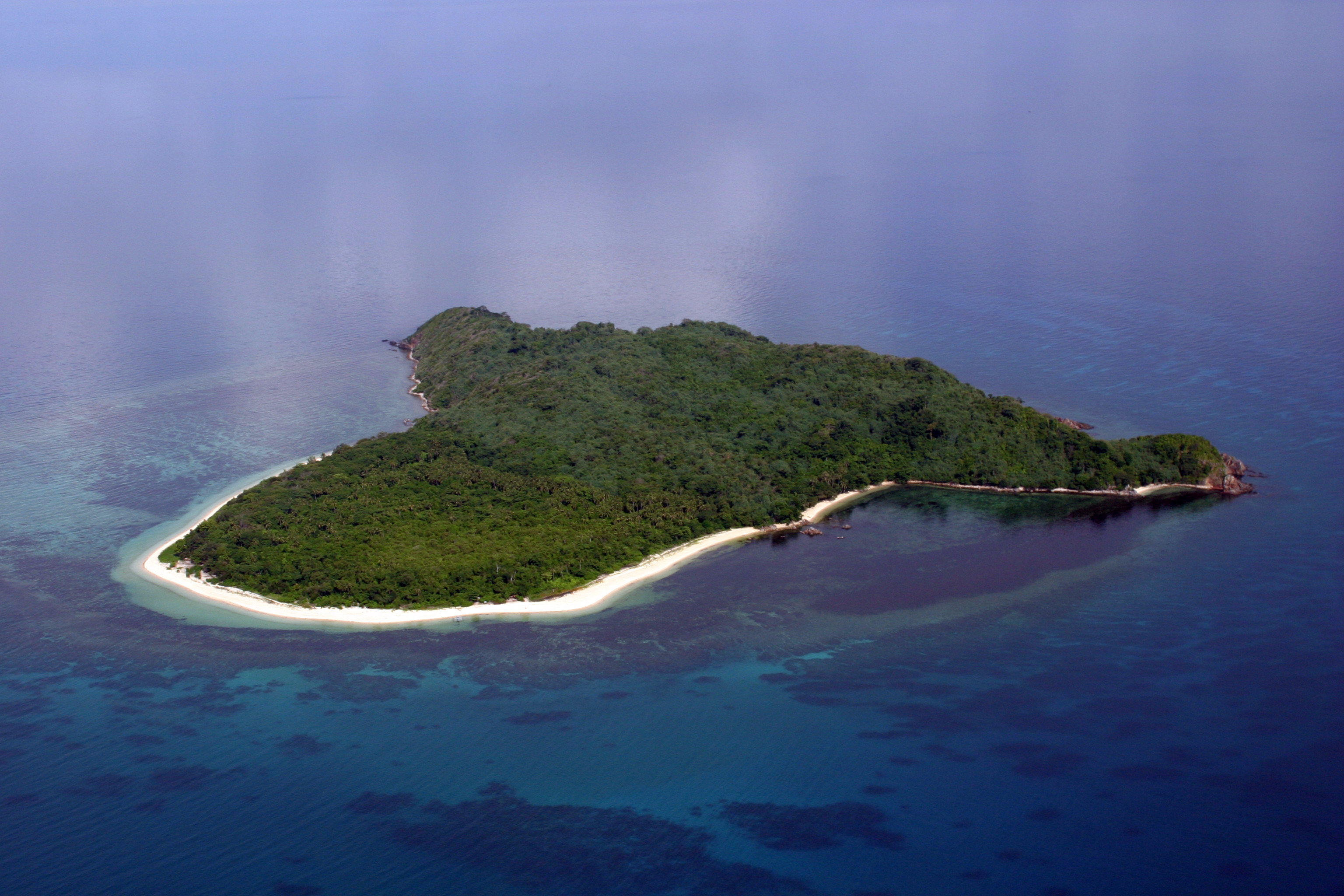 In a world where sometimes style over substance has become the norm, people who want to indulge and enjoy a luxury property without feeling guilty for nature and its surroundings – need look no further.  The Cacao Pearl is the world's first non-profit, luxury eco-resort to be built on an entire private island, at the northernmost tip of Palawan in the Philippines.  Their philosophy is simple: to share all profits with residence owners and a purposefully-formed foundation, which will concentrate on social and environmental preservation programmes in these Palawan islands.
Set in 116 acres of lush rainforest and eight, pristine beaches, the eco-chic resort offers private residences with zero carbon cost, five-star service, an infinity pool, wreck and reef diving, and an organic spa, gardens, bar and restaurant.  Only 10% of the island will be developed which means that there are no 'good' or 'bad' locations to buy and no further development will take place – ever.
There is a choice of locations: beach, garden, resort and crèche (especially for guests/owners with children) and all residences have been designed by film art director, Antonio Calvo (Love Actually, Alexander, Pride and Prejudice).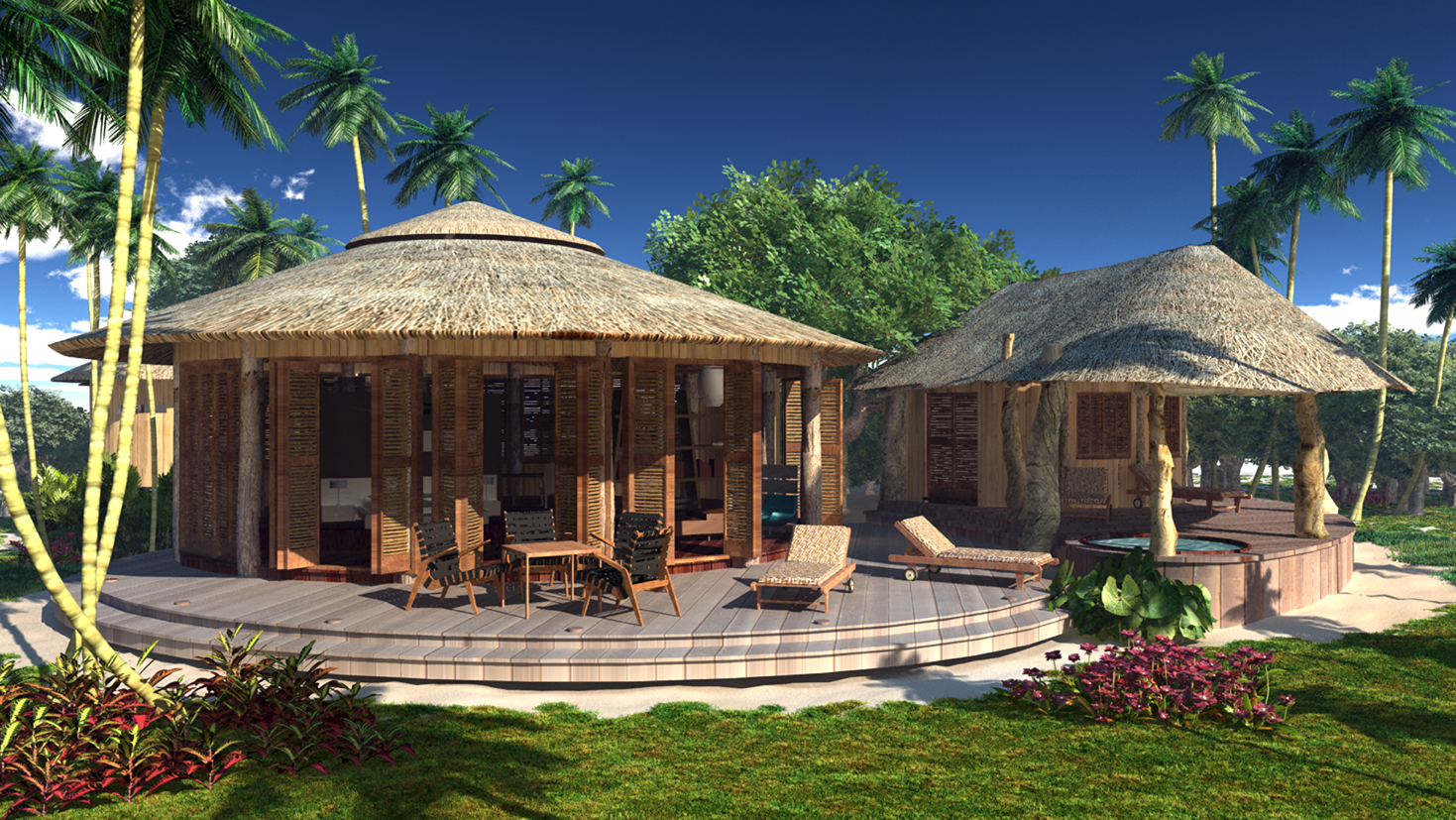 Antonio will work with owners on bespoke requirements, custom finishings to compliment the interiors which use exotic timbers from sustainable forests and designs from Asia's boutique specialist, Budji.
Buyers and investors who want to own a truly unique property are guaranteed sustainable construction methods, 100% renewable energy with an option to buy, re-sell or rent.  The resorts rentals are managed by Cacao Resorts, which ensures that the clientele remains private.   Prices for the 1 and 2 bedroom residences start at USD $280,000 – $500,000
The island has been described by National Geographic magazine as "incredibly beautiful natural seascapes and landscapes", by Condé Nast Traveller magazine as "having the best beaches overall in Asia" and the resort has just received a "Best Residential Development" award by CNBC Asia Pacific Property Awards 2009.  Joel Cere, CEO of Cacao Resorts says "we provide an authentic experience for the grown-up backpacker, a guilt-free option for the traveler with a conscience, a breath of fresh tropical air for sophisticated urban escapees."
The resort is being marketed through HOMEHUNTS and for more information please contact: nicola@home-hunts.com or visit our International section on www.home-hunts.com
Only happy people who care about the world we live in, need apply!
A LAND VAR VAR AWAY
The Var is a department in Provence in the south east of France. Surrounded on all four sides, it is bordered on the east by the department of Alpes-Maritimes, on the west by Bouches-du-Rhone to the Alpes-de-Haute-Provence to the north and by the Mediterranean Sea to the south.  Provençal honey, black truffles and figs are just some of the local produce grown in the Var that enjoys about 300 days of sunshine every year.
The countryside gets more rural the further north you go and Lorgues and Fayence, are very popular market towns and villages such as Bargemon, Tourtour and Seillans are elevated with stunning views. There are many beautiful villages like Cotignac, which became a 'chic' village after appearing in The Sunday Times colour supplement, 20 years ago.  Nowadays, it has not lost any of its charm and is still as popular as ever and the village of  Correns is where Brad Pitt and Angelina Jolie have their French retreat.
If you want a slow pace, friendly villages, a place with cafés to sit and watch the world go by, colourful markets, vineyards, olive trees, and still be near to the coast and airports and TGV, then the VAR is the perfect choice.  The Alps for skiing are within easy distance, Italy an hour and a half away and Morocco and Corsica are over the sea only a couple of hours away. The Var offers beauty, blue sky, green country and enough foreigners to make life cosmopolitan.
Buyers looking in the VAR can be surprised at the affordability of this fabulous region and here is a selection of villas with prices between 550,000 up to 750,000 euros.
In Vidauban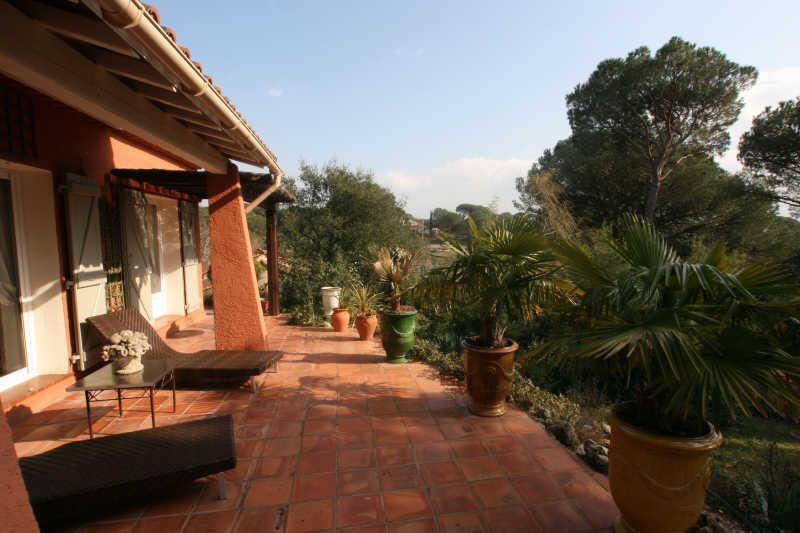 This single level villa of ca. 130sqm living surface is located in a calm residential area.  There are very well maintained garden and terraces all around the villa, with south exposure and great views. The villa comprises of a large living room with fire place opening onto the terrace, double kitchen with utility room, 2 bedrooms, a bathroom and a workshop. Down in the garden is located a studio perfect for the guests and only 38km from St Tropez. Price 550,000 euros.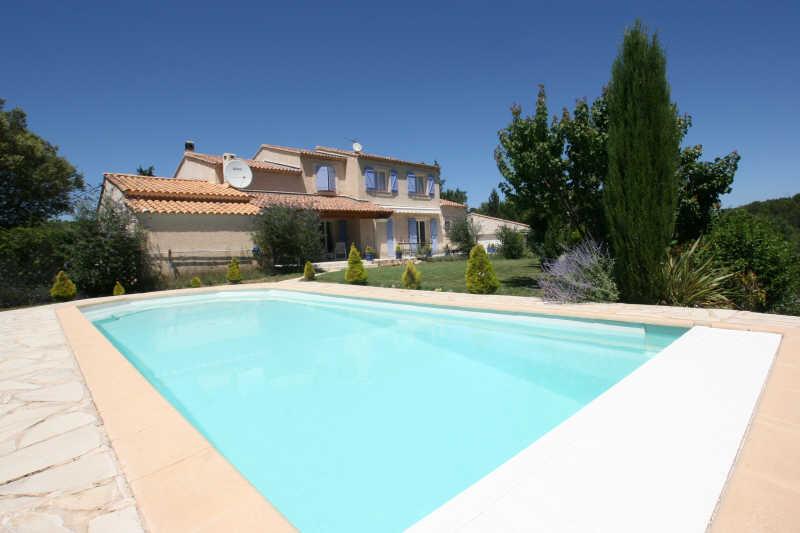 Situated in Correns, this charming country house of 220m² on a terrain of 1,3ha comprises a very big living room opening on the terrace, dining room, a bedroom, an ensuite bedroom, big kitchen with a storage room, toilet and shower room on the ground floor. On the first floor are 2 other bedrooms opening on the balcony, a mezzanine which can be used as a television room or library, a shower room and a big dressing room. Double garage and 12x4m swimming pool. The southern exposure and the stunning views over the surrounding hills are unique. Price 675,000 euros.
For nature and river lovers there is a fantastic opportunity to buy a beautiful property near the village of Lorgues –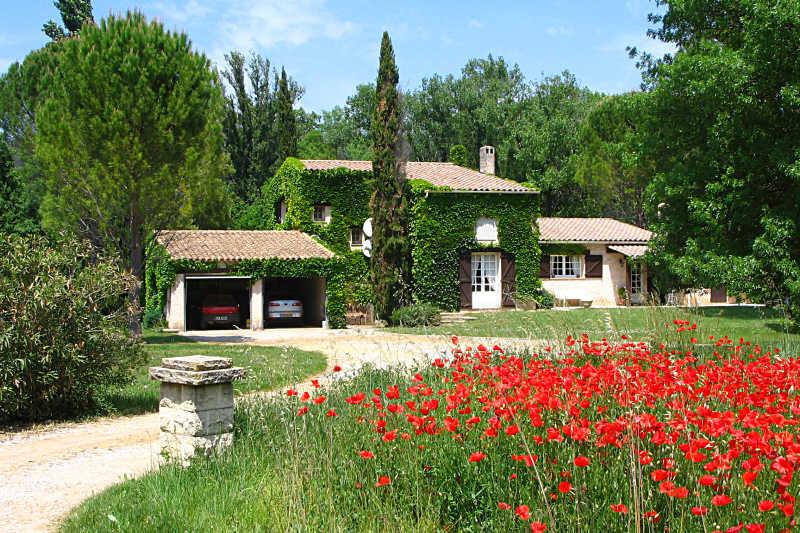 This country house of 170m² on a terrain of 5500m² bordering the river l'Argens.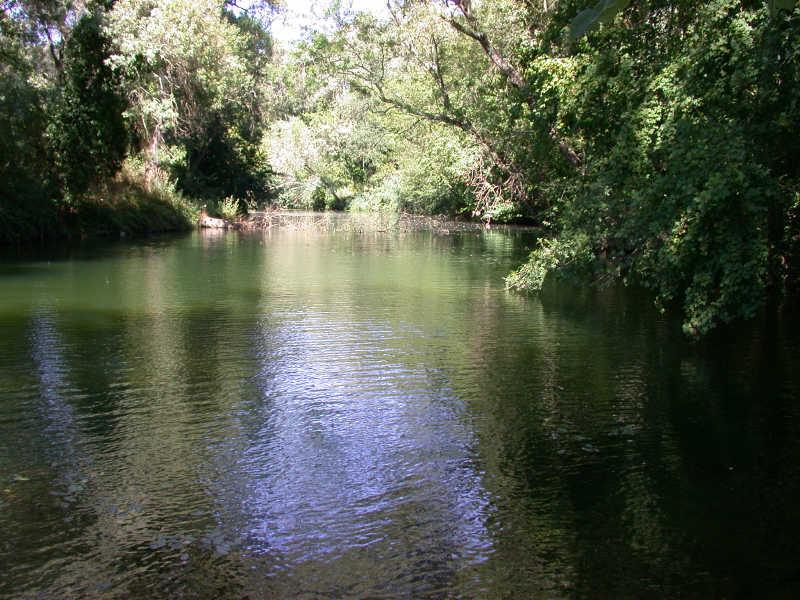 The property comprises a fully equipped kitchen, a huge dining/ living room with an open fire place, 2 bedrooms, a bathroom and WC on the ground floor. Another 3 bedrooms are located on the first floor, a shower, a WC and a coin bureau. Double garage with cellar underneath, 3 covered terraces and a swimming pool. It is situated in a very green, calm and charming area bordering the river on about 80m. Price 583,000 euros.
Buyers looking for stunning Var views, will be captivated by this country house property in TourTour of 200m² on a beautiful 4ha terrain offers land with 380 olive trees.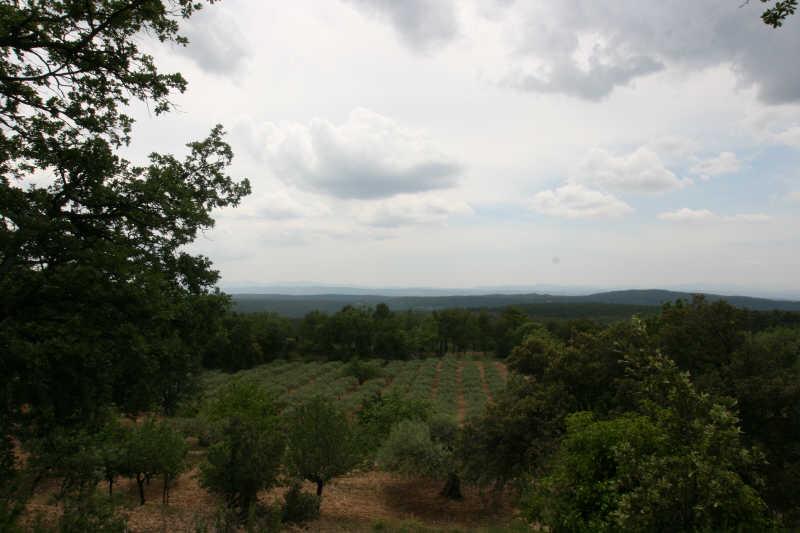 The house comprises of 3 bedrooms, a bathroom, a kitchen and a big living/dining room with an open fire place. Truly amazing panoramic views from the terrace and double garage underneath with a possibility of creating a guest house of 80m² with 2 bedrooms, kitchen and living room with chimney. Bassin and tennis court in the garden. Price 750,000 euros.
LA PERLA – PRESERVED BEAUTY IN THE DORDOGNE
Properties that have been renovated to a high standard are always in demand and a company who have taken this concept one step further are Dutch based, La Perla International Living.  Their concept of 'the world is our home' has led the company to buy old character properties and renovate them with complete authenticity, to a luxurious standard still keeping a light and contemporary feel.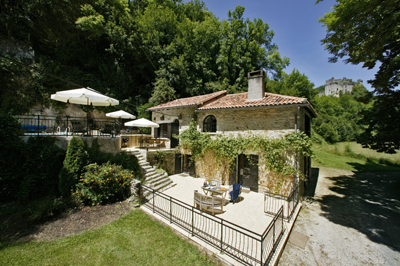 La Perla International Living has developed exceptional rural properties at breathtaking locations in the heart of Le Périgord Vert – the northeast corner of the Dordogne. They range from charming water-mill cottages to traditional farmhouses and stately manor houses. Every residence has been exquisitely restored and furnished to offer a perfect mix of traditional charm and luxurious comfort, all featuring fantastic amenities, including heated swimming pools. All are located in beautiful grounds that are unusually spacious – some up to 50 hectares, with their own small lakes and streams.
They have developed an extensive range of renowned Hospitality Services – including housekeeping, travel arrangements and rental coordination services – all carefully designed to make your life as easy and as carefree as possible.
Properties are sold fully equipped down to the bed linen and the TV and La Perla offer a management service for buyers using it as a holiday home.   Prices start at 595,000 euros and some of the other attractive benefits of these properties are:
• Extensive grounds for the ultimate experience of peace and privacy
• Situated in enchanting, idyllic surroundings
• All properties have heated pool and some a tennis court
• WiFi and satellite available
• Excellent rental possibilities
Situated near the charming village of Sarrazac, La Moulin de Coutille is truly a unique property was once a water mill.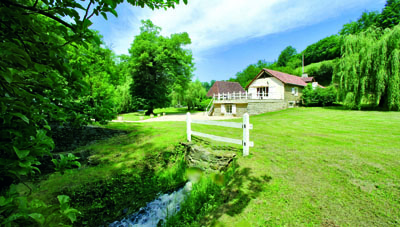 The textured stone walls and sloping roof are all original and the property has lovingly restored,  providing all the comfort and luxury you would expect from a house of this quality, together with a significant amount of old-world charm.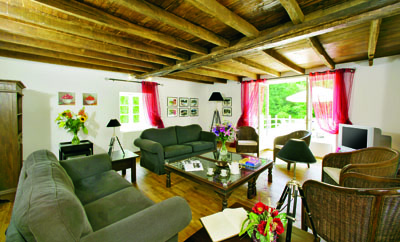 The accommodation for up to eight people is spread over two beautiful buildings: the main house, and 'La Grange' – a self-contained guest cottage 'Moulin'.  Price:  1,095,000 euros
Accommodation comprises
4 bedrooms, 2 bathrooms, 2 shower rooms, 2 kitchens, 6 hectares of private grounds, 270m² of living space, 36m² renovation potential, 53m² outdoor terrace and a 10 x 5m heated pool.
For a full selection of all La Perla properties marketed through HOMEHUNTS contact info@home-hunts.com
ON A TEXAN TRAIL – Opportunity knocks in the US market
Very often at the moment, we hear and read about the property markets tumbling down and in some areas really going rock bottom. But is it wise to buy when the market is so low? Some investors will say yes, and they are right, as when they know what they are buying "location, location, location" which makes it a good deal.
But what if you do not know the location? Or do not even know the area, but still have the gut feeling that now is the time to buy real estate?
Audree Mevellec, who is the President and co-founder of The International Real Estate Specialist, advises to consultant a specialist agent who has the local knowledge and guides you through all the complicated procedures in the country in which they are looking.
She says, "In the US, rules are different when it comes to agent's duties; they have to give you an honest advice but no opinion. Opinions are too personal and can lead to a personal misconduct.
Areas where the markets have not tumbled too low, will recover faster and growth will be based on the local economy and on the global economy. I'd prefer to buy in that type of market, especially when I am not familiar with the area."
Texas has not been hard hit by the current fall, at least not more than the 10% expected.  To buy an investment property, in a good location, a good price/market analysis, you might consider areas within the city's reach and your local agent will probably be the best one to show you the right properties.
Currently on the market are two properties which have been dramatically reduced.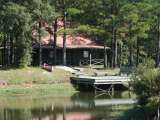 Located in North Carolina this magnificent Estate was $ 7.8 Million USD and has been reduced to $3.5 Million USD (and there is a little room to negotiate for a quick sale).
The estates boasts its own log Cabin on a small lake, numerous bedrooms, great entertaining living areas, fabulous pool, lighted tennis and Basketball Courts.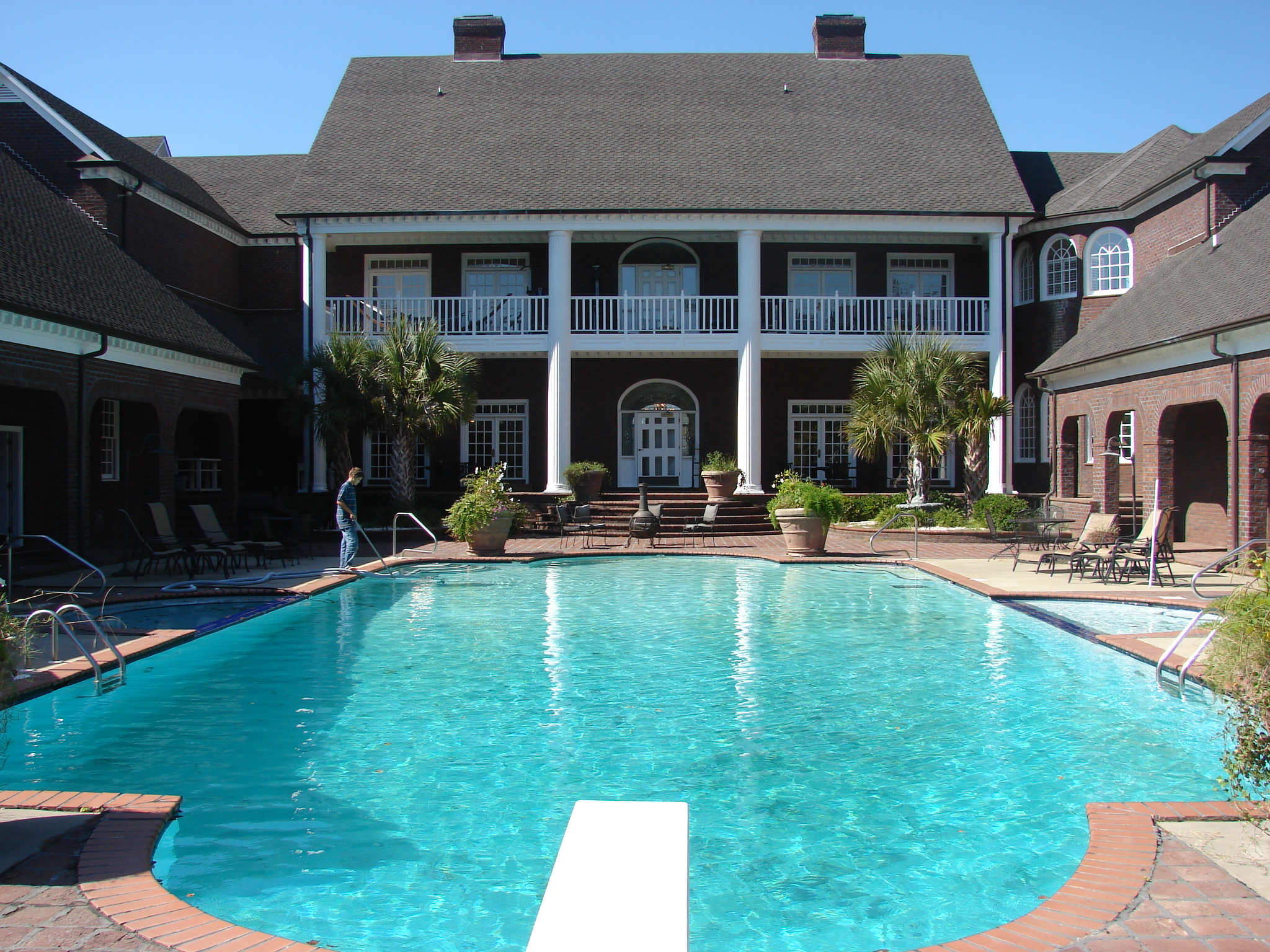 This is an opportunity to buy a superb estate not far from the best that North Carolina has to offer.
In North Dallas,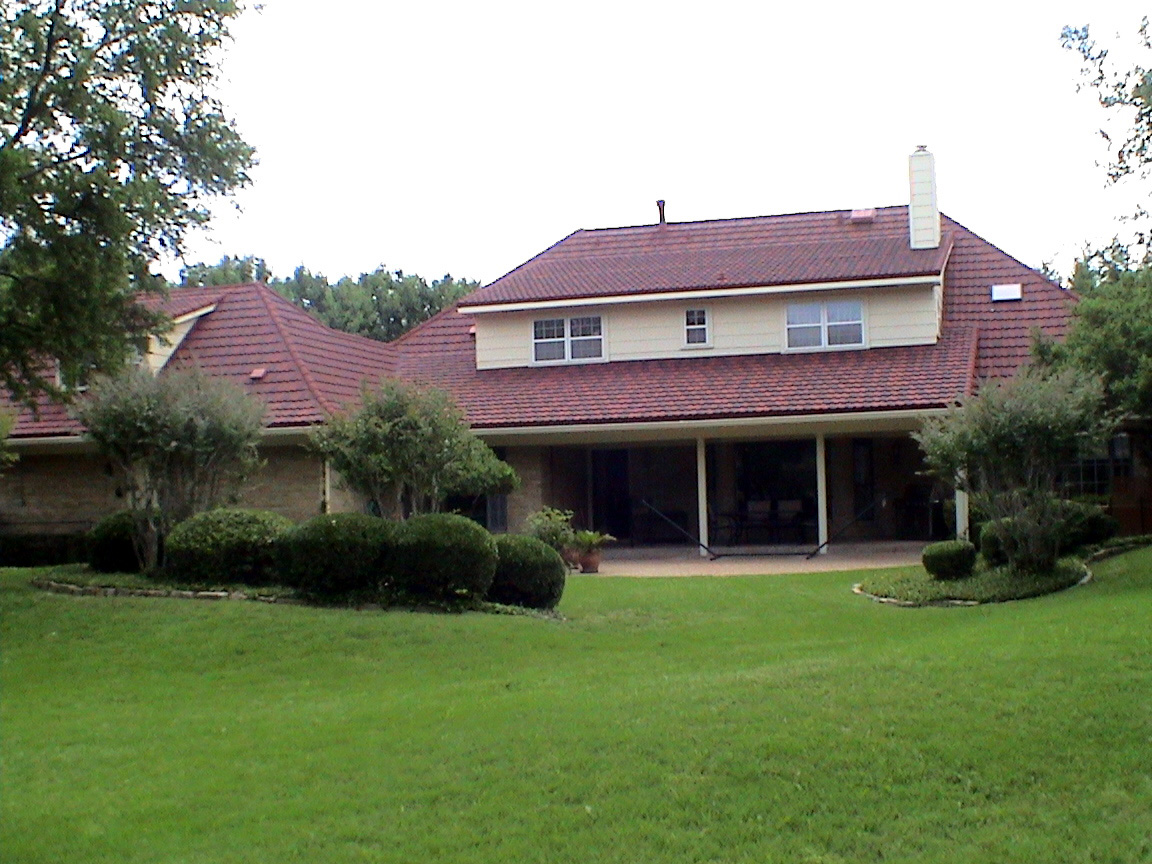 this exceptional Golf course property is in the heart of the "Chic" Area of North Dallas, on the most prestigious golf course.  Just reduced from $1,060, 000 to $999,999 a fabulous opportunity to own a substantial house, on the largest lot available around the golf course.
For any keen investor "opportunity knocks", but he who hesitates is lost.
For more information on the above two properties contact info@home-hunts.com
or visit our USA section on www.home-hunts.com