GETTING INTO THE SWING OF THINGS
It's official – golf is good for your health.

It has long been a very enjoyable sport and golf can be highly beneficial to your well being. Walking is the easiest form of exercise; it stimulates the heart and circulates the blood. All medical practitioners agree that fresh air, exercise and a relaxed body and mind can do wonders for lowering blood pressure plus the bonus of decreasing cholesterol.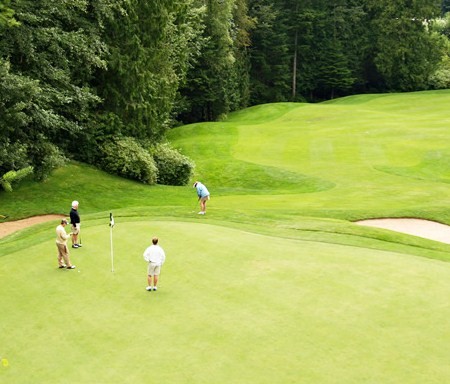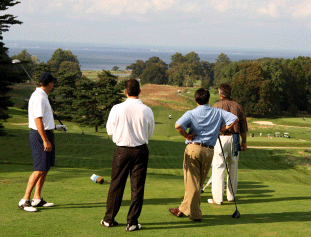 Today's modern golf course can extend in length to between three to four miles and the average player will spend up to 4 hours playing 18 holes; there is nothing that can compete with the experience of an outdoor sport. Play when the sun is warming, you will find your senses are heightened to the beauty of the lush green grass, this is definitely one easy way to lower any stress levels you may be under.

Golf can break down barriers, everyone is equal; it all comes down to how you play. The golf course is an excellent place to meet and make new friends, especially if you are walking the course.   Your round of golf, regardless of whom you are playing with, promotes peace, tranquility and a stress free environment.

Championship golf in the sunshine
For Mediterranean golf with championship courses look no further than the South of France.  Famous and championship golf courses in the South of France include Cannes Mougins, Royal Mougins, Taulane, La Grande Motte, Four Seasons, Barbaroux, Saint Endreol, Gassin, Fregate, Saint Donat, Pont Royal, Nimes Campagne.  There are no less than 18 great golf courses in the South of France.  Stretching from Perpignan to Monte Carlo – 300 miles of sunshine, resorts, historic towns and sights this area has some of the finest golf courses in Europe.  Buying a property on or next door to a golf course combines a lovely lifestyle with a healthy lifestyle.
SOUTH WEST FRANCE:
The Golf courses in the South West have wonderful greens and fairways which are permanently green. Many of the courses are adjacent to the large rivers which flow through the departments and the soil base of varying mixtures of rock, blue clay and sand retains and traps the moisture throughout the year.  South West France has a long tradition of being a golf mecca, the course at PAU – BILLERE being the oldest club in continental Europe, created for and by the British Army in 1856.
Situated on the border of Lot and Dordogne is this beautiful property next to the COUNTRY CLUB DE SOUILLAC.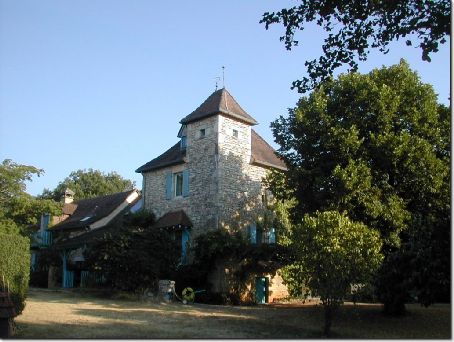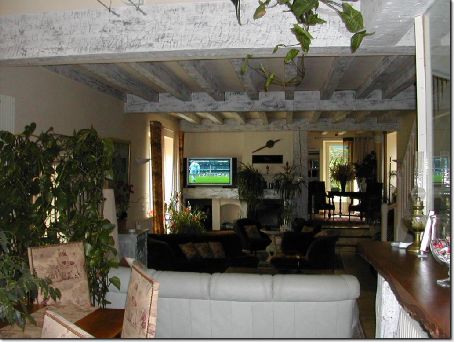 Fully restored on a hectare of land, it offers 4 bedrooms, kitchen/diner, library, cellar, garage, independent studio, solar heating and lovely pool area. Price: 805,000 euros
RIVIERA
Whilst some bronze themselves on the glamorous beaches along the Cote d'azur, golf lovers flock to this part of France to enjoy glitz of their own on the greens.

The Golf resort of Saint Enderol is one of these great courses. This villa is set on an award-winning golf course in Saint Enderol. which is renowned to be the best site on the whole 370 acre Domaine, enjoying views to the south west, with the benefit of a large 2,163m2 plot giving extra privacy.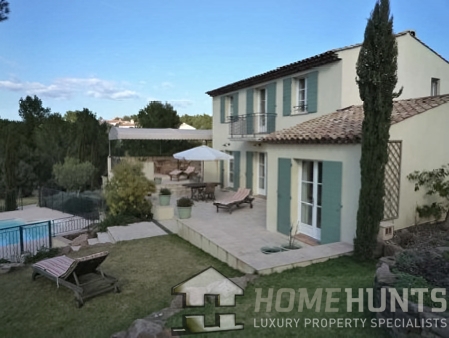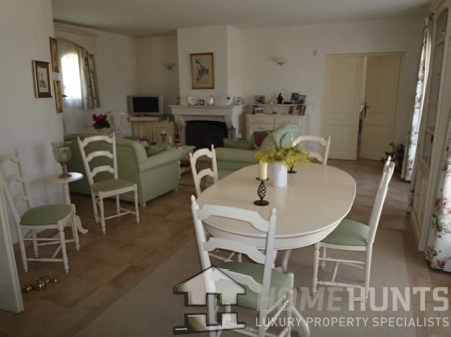 The Villa of 133m2 has 4 air-conditioned bedrooms: two bedrooms ensuite, and two bedrooms with separate shower room. The large drawing room/dining room opens up onto a spectacular sunny and private terrace of 89m2 overlooking the fully enclosed 5 x 10 metre swimming pool.
The garage is large and has been designed for a golf buggy as well as a car. There is also extra sheltered parking.  Price: 1,100,000 euros.  A beautiful place to relax and enjoy the stunning French countryside, just half an hour from Cannes or Saint Tropez.
Also located not far from St Tropez is this Golf property in the famous Gassin Golf Course.  A unique environment for an exceptional golf resort on the French Riviera.

This gated domain is of rare beauty, located just five minutes from the Saint-Tropez harbour and the Pampelonne beaches, in the heart of the world's famous peninsula. Completely secure, with a privileged members Club and a selection of exclusive services.

A domain of more than 100 hectares, in a conservation area, wooded environment, where an exceptional world-class golf course designed by Thierry Sprecher, golf course architect and Gery Watine, former French number one, with the participation of Gary Player.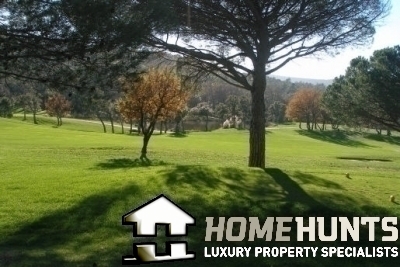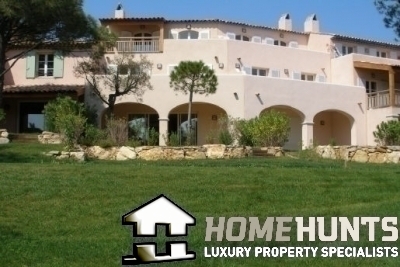 This terraced villa has 120m² of living space, 4 bedrooms, 3 baths, living-room, kitchen, 200m² of private garden open toward the fairways.  Property owners have the right to relax in the club-house, the pool, the 3 tennis courts and access to the green-fee and right to play.  Price: 1,475,000 euros.
ROYAL MOUGINS GOLF COURSE
A very well presented, two bedroomed extended villa situated on the famous Royal Mougins Golf course.
PRICE: 545,000 euros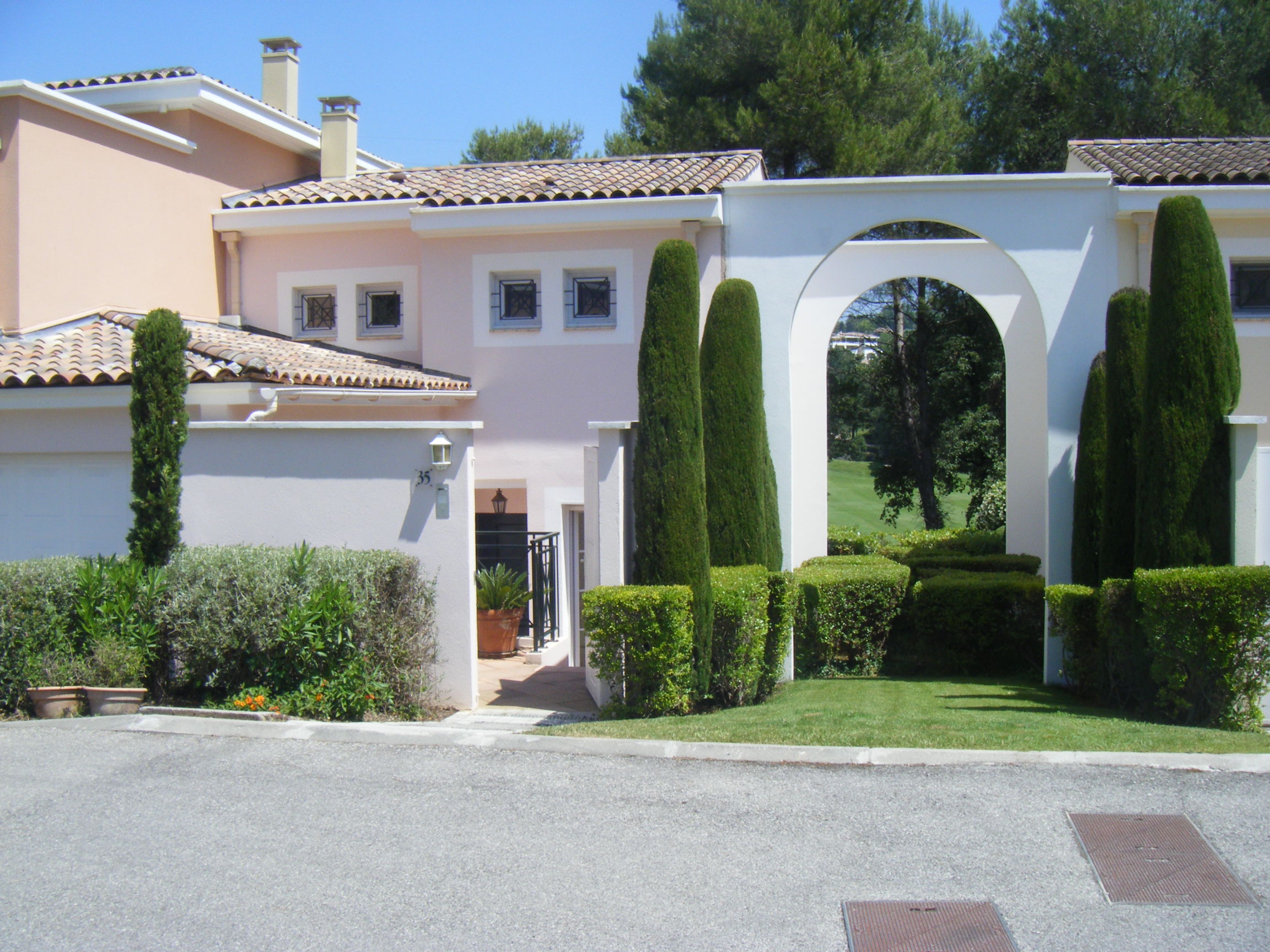 Ground Floor: Kitchen, Living Area, Dining area and Sun Lounge opening onto main Terrace overlooking a lake & fountain and Fairways, WC, Utility Cupboard.
First Floor: 2 Double Bedrooms. The Master Bedroom has an en-suite Bathroom with 'his and hers' sinks, and opens onto its own small Terrace overlooking lake. Guest Shower Room. WC.
Terrace: Dining area (seats 6)
Front: Patio & Sun Lounge Room (can double as 3rd sleeping area)
Parking: Driveway plus communal parking area for guests (buggy in garage).
Swimming Pool: communal to the Domain (40 metres from villa)
Also available (separately) with this property is a RESIDENTS FAMILY GOLF MEMBERSHIP – unlimited golf for 2 adults and 2 children (up to 21).
The property is being sold fully furnished  ready to live in or rent out
ROYAL MOUGINS CLUBHOUSE & SPA
Enjoy the Golf Club facilities Restaurant, Lounge area, Bar, relaxation/snooker lounge plus an outdoor Restaurant overlooking the magnificent course. There is also a newly opened Spa with treatment rooms and Gymnasium. NOTE: You can walk directly to the Club House using the paths through the course.


PROVENCE:
The famous Domain de Terre Blanche in Tourettes in the VAR, has become a very popular place for buyers looking to combine great weather, fabulous countryside and a superb golf course.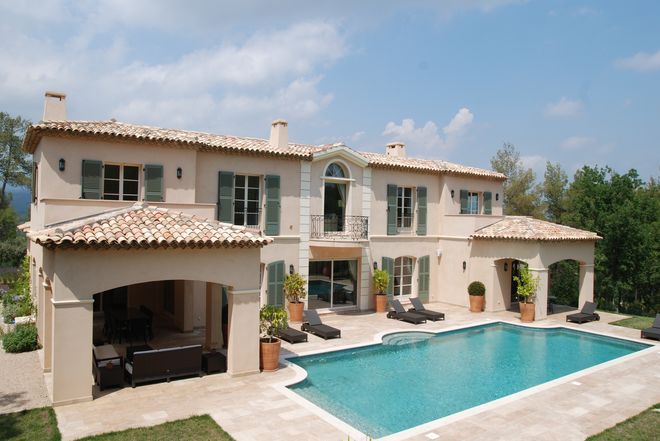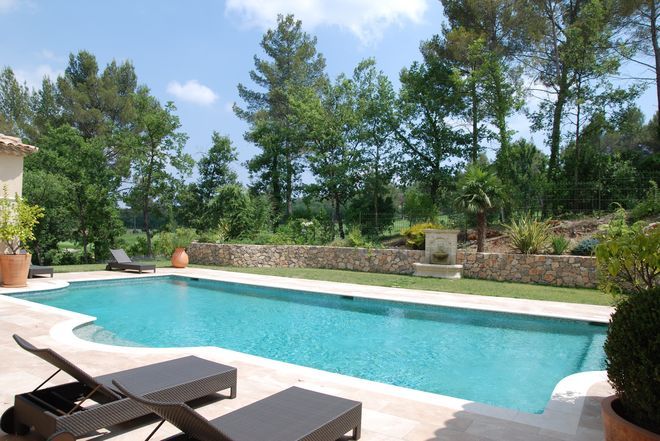 This magnificent 380m2 villa is situated in a secured resort of 266 hectares with two 18-hole golf courses, a hotel Four seasons and an exceptional Spa.  Comprising: on ground floor, nice entrance, living room of 70 m², fitted kitchen with storage/laundry room, two bedrooms ensuite bath/shower rooms. On the first floor, master suite of 50 m² with dressing room, bath/shower room with solarium and a second shower room, a bedroom ensuite shower room and solarium. In the basement, air conditioned wine cellar, cinema room, double garage with buggy parking space. Swimming pool. Beautiful landscaped garden of 3800 m². High standing fittings. Reduced notary fees Price: contact us.
The international Golf course of Pont Royal in Aix en Provence is perfectly situated from Marseille Airport and allows easy access to Provence.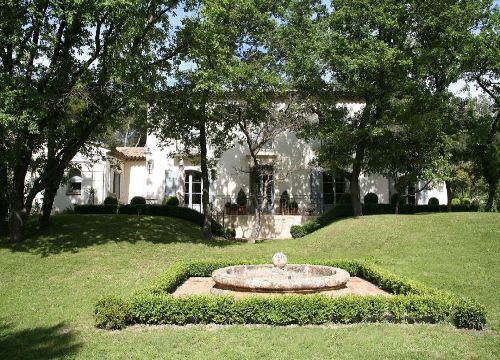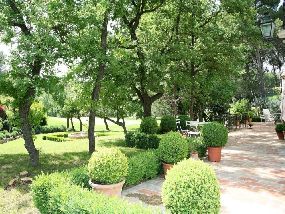 It is rare to find such a beautiful "Aixoisie Bastide"situated in the golf resort, particularly in such a calm environment, with an open outlook on a beautiful wooded park.  This remarkable property is set in a 2540 m² wooded park and offers 250m² living space.  Ideal for golf fans looking for a quite comfortable residence in Provence.       Price: 1,650,000 euros.
LANGUEDOC:
One of the most exciting developments in the Languedoc region of France is the International golf course at the Domaine de Lavagnac, which will be one of the most beautiful and natural in Europe. It will also be quite radical in design. Rather than being forcibly carved out of the landscape like so many modern courses, the 18 holes of Lavagnac will follow the natural contours of the land.

The philosophy and passion behind this unique design is that of the domain's co-owner, Charles Cox, who played professional golf at the highest level for seven years on the PGA European Tour. His dream was to take golf course design forward by going back in time – to an era when courses could only be built where the landscape was interesting enough to sustain them. To bring his vision to life, Charles teamed up with award-winning golf course designer Ray Hearn. Together, they have designed a course that will make the most of every natural curve and undulation in the terrain – and so challenge and delight even the most experienced of golfers.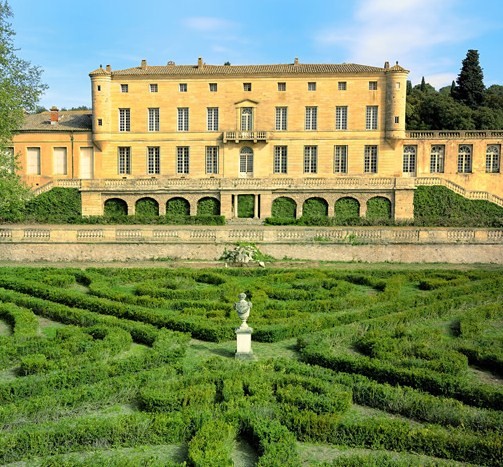 It combines luxury homes; an 18-hole golf course and club; and a luxurious spa. All this encircles a 400-year old chateau known as the 'Versailles of Languedoc' – which is to become a 5-star hotel, where you'll sip champagne on limestone terraces overlooking the chateau's formal gardens.

Properties available on the fabulous location signify five elements: Light, Air, Space, Wood and Stone. The homes at the Domaine de Lavagnac will offer everything you need to feel comfortable, relaxed and positive about life. And with 9 different designs, offering a range of sizes and configurations, there's bound to be a home at the Domaine de Lavagnac that fits you and your lifestyle perfectly.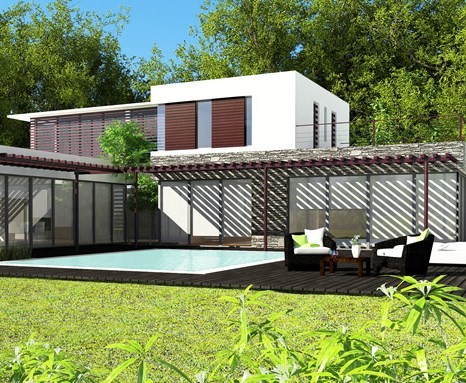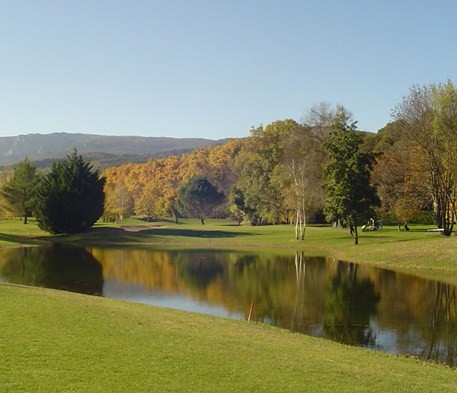 The homes at the Domaine de Lavagnac have been designed by award-winning architect Pascale Malet-Seeli who incorporates the environment to blend naturally with her designs.

'The biggest challenge with this project was the site. It's 180 hectares of land – that's 440 acres, and is effectively 5 kilometres long. In some areas we have dense woodland. In others we have garrigue – a mix of scrub and wild herbs such as thyme and rosemary. Other areas are rocky. So a huge variety of landscapes. So we've designed each hamlet and avenue to fit in with its surroundings. For example, when I was designing houses that were surrounded by forest – I would use more wood in the design. When in more rocky areas, I would design the houses using more stone.  If you asked me what it would be like to live in one of these homes – I'd say that the most surprising thing would be the amount of light pouring in, apart from the fact that we are in the south of France, but because of the height of the ceilings. The Cox brothers were insistent that we didn't have standard 2.5 meter ceilings – but instead designed the houses to achieve a real sense of volume – with large sliding glass doors that open on to either gardens or terraces – often with views of the golf course. Inside, you feel like you're outside. And in the south of France that really feels wonderful."

The course here promises to make the Domaine de Lavagnac one of the top luxury golf developments in all of France.

PARIS.
The internationally famous Golf course at Saint-Nom-la-Bretèche, 20kms west of Paris, famous for the Lancôme Trophy, was originally designed in 1959 by the architect Fred Hawtree.  With two magnificent courses this prestigious club is for members only and their guests and offers first class golf.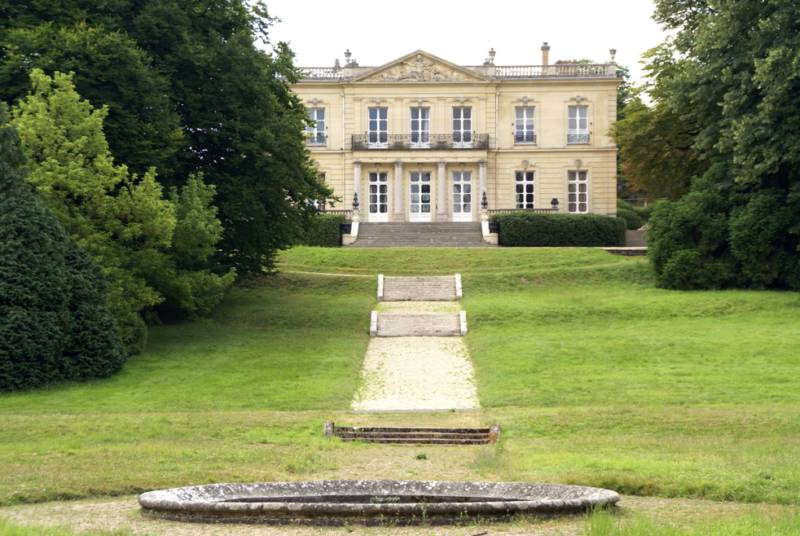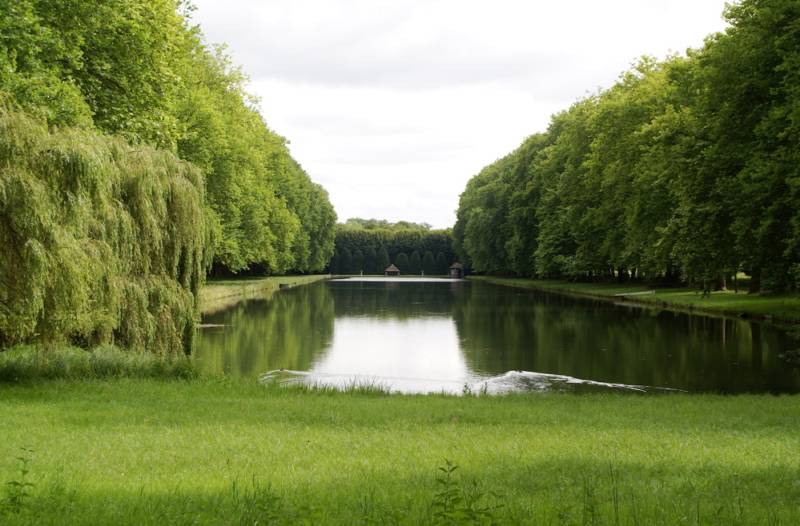 This estate is located near the course on a land of 253 hectares and offers exceptional living space and grounds.  Price contact us.
Also in the same area of the Yvelines district is the Golf course de Saint Germain en Laye, where President Mitterand used to play every Wednesday.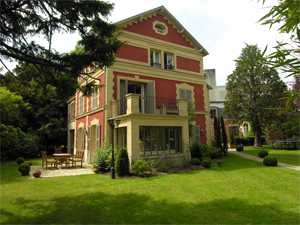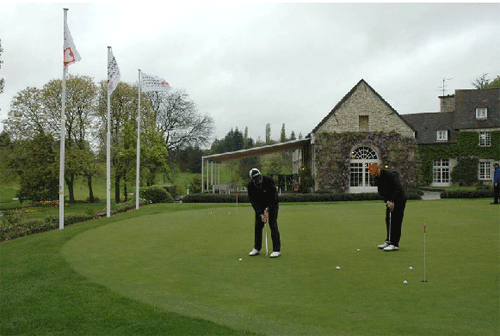 For sale in the nicest residential area of Saint Germain en Laye and close to the Golf de St Germain en Laye, this stunning property composed of 2 buildings on a landscaped land of 1600m² offers superb accommodation.  Excellent condition with heated pool and parking for 3 cars. Price: 3,350,000 euros.


MARRAKECH
If you are looking to combine a property and sport in the captivating country of Morocco then the magnificent Golf d'Amelkis is a few minutes from the centre of Marrakech on the Route de Ouarzazate is the perfect destination.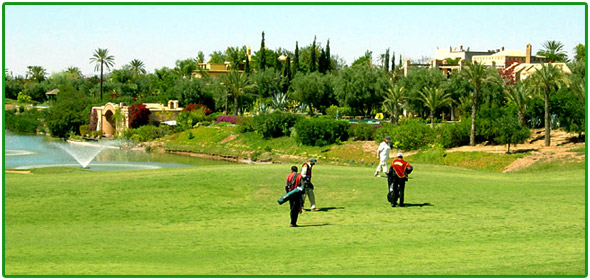 Situated on a very good place of the course, this Moroccan villa is for sale completely furnished and decorated with a view on the golf course.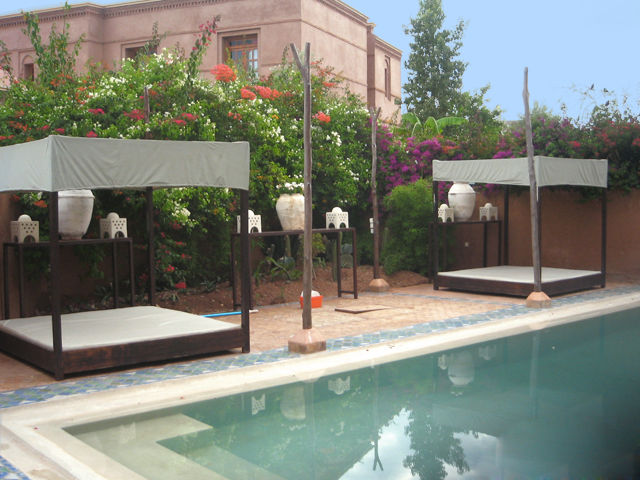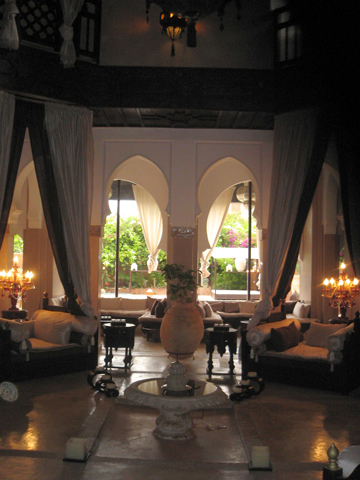 It offer four rooms with bathrooms, big patio Moroccan style, several lounges (Moroccan and European), and swimming pool of 10×4 m.  Price: 3,465,000 euros.

USA
Across the Atlantic, golfing in the USA is just as popular. For this property, views of the golf course are fabulous, it is right on the greens of the prestigious North Dallas golf called Preston Trail.  Previously priced at $1,060,000 the property has been just reduced at $850,000.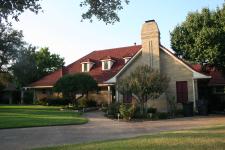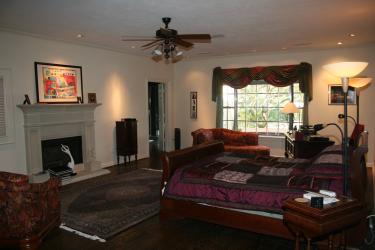 The house has a very spacious 530m2 and a gorgeous surrounding garden of 0.750 acre and it has fabulous views.  The owner can walk directly onto the golf course as there is a small gate from the property directly on to the course. This home is extremely well maintained and has been constantly updated.
You will find a fabulous floor plan allowing entertaining and family life at its best.  Formal living and dining are very spacious as well as a large kitchen with professional gas range and oven, family room open to the garden golf course views.
A great cinema room and many other features make this house an incredible property. An additional studio is ideal for Nanny or office is privately tucked over the garage with separate entrance.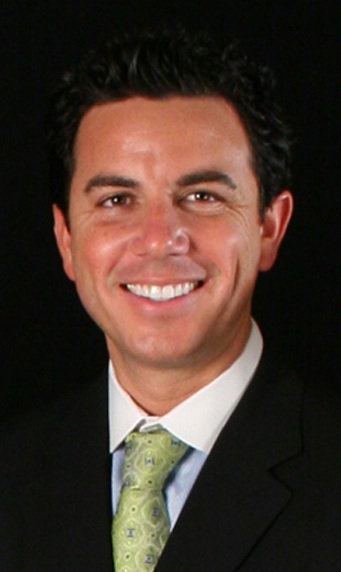 Olivier Mevellec a Golf pro from Dallas says whatever your age, it is never too early or too late to start learning.  
"Any time is OK, as long as you find yourself a golf pro that has patience, and I mean a lot of patience.  Find a club that offers a special beginner's course, and lots of buddies that play as bad as you do to begin with!."
"But that said, it is a way to enjoy life, (except when you start competing) walk 18 holes, under the breeze, play at your leisure, yes playing golf is really a fabulous thing to do."


Historically property sales on golf courses have been at the heart of the international property investment boom, with increasing numbers of people choosing to buy apartments or villas that offer a relaxing, exclusive and ambient place to stay.

Golf properties are very successful in terms of capital appreciation and rental income. Owning a property on or near to a golf course provides substantial benefits for a property investor.

Buying a golf property means improving your game, enjoying beautiful surroundings and having the chance to holiday abroad. (a little birdie told us.)
For more information on all our golf properties please contact:
info@home-hunts.com

For more information on Golf USA contact :
olivier@castlesandestates.com