New York: A Timeless Winter Holiday Destination
An Insider's Guide to the Big Apple
Home Hunts sat down with their New York property expert, Victoria Vinokur to chat about NYC and to find out what there is to see and do throughout the city over the holiday period. Victoria lives and works in New York and as well as being a real estate expert, she is also an expert on the best addresses and destinations the city has to offer ! If you are planning a visit to New York this winter then this should really give you some hints and tips! If you would like to know about property in any of the areas mentioned then just let us know, we would be delighted to help !
Come to Manhattan for the holidays and you'll find yourself in one of the most spectacular and sparkling cities on the globe.  People come from all over to experience the magic, soak up the ambiance of a city energized by light and the joy of the season.  You can choose to be part of the throng or just an observer–seek out the crowds or find a quiet corner. Your biggest challenge will be to narrow your choices down, decide which activities you'll be able to fit into your schedule. The possibilities are mind-boggling and include activities for every age and taste. Here are some suggestions to get you started.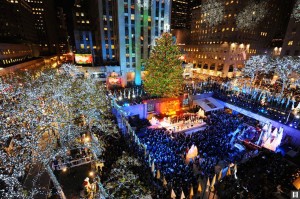 Q: Were shall I go to "people watch"?
First stop would be the Monkey Bar in midtown, an intimate jazz-age themed space with world famous Edward Sorel murals. Sip a seasonal cocktail–the Port Time Cobbler or Spicy Pete–and watch the" beautiful people" come and go. Another midtown bar, freshly renovated but still sporting its Maxfield Parrish mural behind the bar, is the legendary King Cole Bar in the St. Regis Hotel.  Have a signature Bloody Mary and keep an eye out for the rich and famous in this watering hole that was once a favorite haunt of Frank Sinatra and his pals, Marilyn Monroe and Salvador Dali– who used to come in with his pet ocelot.
Or, for location, location, location, head to Brasserie Ruhlmann just across from the tree in Rockefeller Center. It doesn't get more holiday-time-in -New -York than that. Just  about every street in the city is perfect for people watching but, if your time is limited, take a stroll up or down Fifth Avenue and combine the ultimate in window shopping with world class people watching.
Q: What are the must-see performances of the holiday season?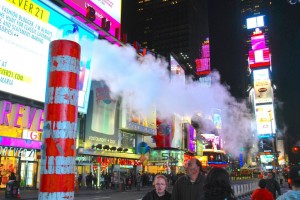 That's an easy one to answer.  Although versions of Tchaikovsky's Nutcracker Suite Ballet are presented all over the US at holiday time, none can compare to the New York City Ballet's version at Lincoln Center. No matter how old you are, this sumptuous production with its 90 dancers, 62 musicians, 50 ballet students and spectacular Christmas tree that grows from 12 feet to 40 feet right before your eyes, is a must-see.  And, there's the world-renowned Radio City Christmas Spectacular featuring the Rockettes with an added attraction: you can have your photo taken with one of the glamorous Rockettes before the show begins. This year's Spectacular (dubbed "brilliant" by the NY Times) features a 3-D ride through the skies to the North Pole, ice skaters, dancing teddy bears, dozens of Santa Clauses and a live on-stage nativity scene.
Q: Where shall I go to buy interesting gifts or just a treat for myself?
At holiday time, outdoor holiday fairs and markets pop up all over the city. One of the largest is  in  Union Square where 100 merchants, artisans and farmers  sell their wares–truffle salts, handcrafted  leather belts, handwoven scarves plus so much more.  Another notable holiday market is set up inside Grand Central Station, the magnificent landmark  that is celebrating its centennial this year.  A perennially popular New York shopping destination is Greenwich Village, especially the unique shops along  Bleecker and Hudson Streets. Even if you're not actively shopping, a stroll through this neighborhood is a genuine treat. And there are gift buying possibilities  galore at the  Time Warner Center on the West Side where you literally shop under the stars indoors– huge LED stars that are choreographed to change color to the accompaniment of holiday music.
Q: Where shall I go for  brunch?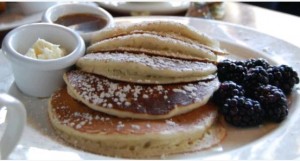 Probably the most popular meal  for many New Yorkers is the ubiquitous Sunday brunch.   And one of the favorite Sunday  brunch destinations for New Yorkers and visitors  is Sarabeth's at its new location on Central Park South (around the corner from Plaza Hotel residences and right across from Central Park, not far from  5th Avenue shopping, and a short walk from Lincoln Center and the Museum of Arts and Design).  Choose from an extraordinary selection of omelets  or have this  New Yorker's  absolute favorite–the lemon & ricotta pancakes.  If you're a jazz lover, you can combine Sunday brunch with some easy jazz at the Blue Note in Greenwich Village.  Or go back uptown for a sumptuous and exquisite brunch at the Carlyle Hotel and Café Caryle.  To put an authentic New York style deli spin to your Sunday brunch (or any other meal in fact) head downtown to  Katz's Delicatessen, a beloved fixture of the Lower East Side since 1888.
Q: Can you suggest a walk that takes in some of New York's most interesting neighborhoods?
The Big Apple is a walker's dream. One suggested walk begins downtown and goes to midtown and then across to the Upper West Side and covers about 4 miles. You don't have to do all of it of course, just choose any one or two sections and you'll get an interesting sample of New York's always-interesting  neighborhoods.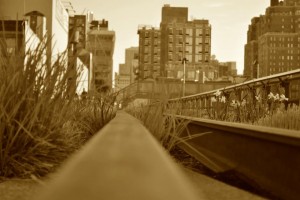 Start on the border of the Meatpacking District and West Chelsea (at the intersection of 14th Street and Eighth Avenue) and walk West and then north on Tenth Avenue. You will pass many notable West Chelsea art galleries that showcase cutting edge art by emerging and established artists–stop in and take a look at a few of them.  If books are your pleasure, drop by 192 Books at Tenth Avenue and 21st Street for the most eclectic selection the city has to offer.  At 23rd Street, you'll find one of the entrances to the Highline, a magnificent public park built on an abandoned elevated freight line just a few years ago. As you walk along the Highline you'll get a unique view of the city and its architecture–a mix of some of its newest buildings and some of its oldest.  Exit the Highline at 30th Street, and walk east towards Broadway and 29th Street to the Ace Hotel. Need a break? The hotel's gastro pub, Breslin Bar and Dining Room, or its Stumptown Coffee Roaster cafe are  perfect places to rest a while whether you crave a meal, a drink  or simply a cup of delicious coffee.
After your break, continue north on  Fifth Avenue past the city's beautiful main public library and some of the world's most famous department stores–Lord and Taylor, Saks Fifth Avenue and Bergdorf Goodman. When you reach 59th Street, toast your accomplishment with champagne at the festively decorated Plaza Hotel or a glass of wine across the street at Bottega del Vino.  Still feeling energetic? Continue your walk along Central Park South to Columbus Circle and then, fewer than ten blocks away, to Lincoln Center and its dancing fountains and Christmas tree.
Q: What's the best holiday activity for kids?
New York at holiday time is a paradise for children. Besides the Nutcracker and the Radio City Spectacular, there's a huge canvas of child-friendly things to do. Take a walk past the windows at Lord and Taylor, (this year's theme is vintage New York); visit FAO Schwarz, the ultimate toy wonderland;  stop by the Lego store in Rockefeller Center with its awesome models of Lego creations; ride the Ferris Wheel at Toys 'r'  Us in Times Square; explore the Children's Museum on the Upper West Side; or go ice skating at outdoor rinks in Bryant Park, Rockefeller Center or Central Park.
Whatever you decide to do,  have a wonderful time!