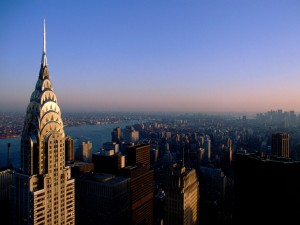 Between 34th and 59th Street and 89th Avenue to the Hudson River, Hell's Kitchen, otherwise known as Midtown West, has been undergoing something of a makeover. So-named in the 1800s when it was renowned for its poverty and violence, its gritty reputation kept property prices low, but, not any longer. Hell's Kitchen's average property prices are one of the districts to have increased the most, by 6.19%, over the last year says a market review from MNS. It also reports that this district offered the most doorman listings of any neighbourhood in Manhattan.
"The demand for property in the Midtown West area is relentless at the moment," said Home Hunts founder and director Tim Swannie. "This area has a something of a 19th century feel, as buildings generally have a maximum of seven stories, and with sleek apartment blocks like 540 West appearing where warehouses and parking lots used to be, the grittiness is starting to disappear. Hell's Kitchen really does seem to have the leading edge for the city's development at the moment and we are seeing a lot of interest in prime residences here."
Approval for the rezoning of the West Clinton area in 2011 (bounded by West 55th Street, West 43rd Street to the north and south, and between 10th and 11th avenues to the east and 12th Avenue to the west), formed part of the catalyst for the rapid development of the area. Known for its huge residential developments, the Gotham West mega-complex is part of this transformation. This building is about to launch its ground floor, 10,000-square-foot, "day and night market" which consists of food counters, open kitchens and retail space. Opening on Wednesday 27 November 2013, it offers eight artisanal food outlets, including Blue Bottle Coffee, The Cannibal (charcuterie, small plates and beer) and an Ivan Ramen Slurp Shop, one of Ramen's first restaurants outside Japan.
Home Hunts has many properties for sale located in the Hell's Kitchen area, including several new, luxurious apartments in the eye-catching glass and steel building 540 West, on West 49th Street.
This building – offering a seven-floor, two-tower layout – is a community in itself, thanks to its top quality facilities, which include two landscaped roof decks, an open air movie viewing area, a fitness centre and a 24-hour doorman.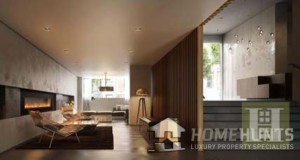 A one-bedroom duplex apartment (HH-7284444), this property enjoys all the shared amenities in the building and offers a beautifully-designed living space that includes white oak hardwood floors and floor-to-ceiling windows. The luxurious bathroom features a deep soaking tub as well as Italian porcelain tiles. It is priced at $1,450,000.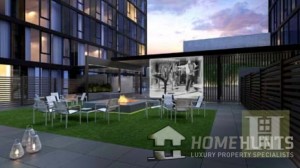 This two-bedroom, ultra-sleek and sophisticated penthouse (HH-7330975) features a floating staircase, two bathrooms and a state-of-the-art kitchen, which includes a Silverstone quartz countertop, imported Italian cabinetry. Spacious and luxurious, this extraordinary property is on the market for $2,465,000 – a competitive price for such a rare penthouse opportunity.
To find out more about these properties and others in Hell's Kitchen, visit www.home-hunts.com. To enquire about a specific property, contact the US team directly on +1 (0)870 619 4114.