The PROVENCE COASTLINE stretches from Cavalaire sur Mer on the far eastern side all the way to Marseille and is still one of the best kept secrets for property buyers.
Less well-known than its St Tropez and Cote d'Azur rivals, this winding expanse of the Mediterranean coastline hugs protectively some beautiful national parks which overlook the turquoise sea. Served by three airports, Marseille, Toulon/Hyeres the Provence coast is a fabulous combination of stunning sea views, breathtaking countryside, pretty small villages and big town culture.
Some parts of the coast however are still less well known than others. If you are looking for a place where life is still typically French and unspoilt, where aperitif time is one of the most important times of the day, where the priorities are just to enjoy life, there is no better area to combine the coast with green protected countryside.
The stretch of the coast from Marseille to Toulon is geographically outstanding. With the Calanques of Cassis, cliff faces of up to 200m high reaching as far below the sea as above give opportunities like no other in the region to scuba dive, rock climb and walk. Walking along the calanques of Cassis has to be one of the most breathtaking walks in the coastal area. Cassis itself is a picturesque Provençale fishing village and houses some of the most sought after addresses and exclusive properties on this part of the coast.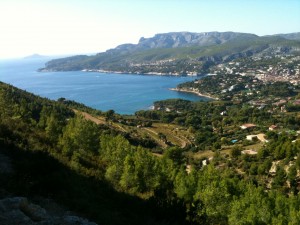 Along the coast, up to La Ciotat, is the hometown of the Lumiere Brothers. The first ever motion picture was taken of a train arriving in La Ciotat station in 1895. The well know Provençale game Pétanque was invented in La Ciotat in 1907, coming from the provençale "pes tanques" – literally meaning "grounded feet". Today La Ciotat has recycled its shipbuilding yards and is now the largest marine pleasure yacht repair yard in the Mediterranean. Long stretches of sandy beaches and hidden creeks along with watersports to suit all tastes make the Gulf of La Ciotat a place to discover.
Further along the coast we find ourselves no longer in the Bouches du Rhone department but in the Var region. St Cyr sur Mer, known in the region for its traditional markets, wine festivals and sandy beaches makes an ideal family destination. Walkers are spoilt for choice; the second of the two most spectacular walks in the area weaves in and out of the Mediterranean pine trees along the watersedge from La Madrague to Bandol.
Another excellent sporting attraction is the famous Golf de Fregate, The Dolce Fregate Provence golf course is located at Saint Cyr sur Mer. The two golf courses (18 and 9 hole) are ideally situated at the heart of Bandol AOC vinyeards and olive trees, overlooking the Sea. Golf enthusiasts can enjoy the greens of the legendary Ronald Fream-designed 18-hole-course considered as one of the most breathtaking golf courses in France and Europe.
Bandol is well known for its large marina, home to numerous impressive yachts and where boat hiring is just as easy as hiring a car (providing you have a licence).   The first vines were planted over 2500 years ago in Bandol, making it one of the oldest vineyards in France. Since then this region which nestles into the hills and is a hop, skip