A hilltop medieval village on the Côte d'Azur, Eze offers magnificent views of the Mediterranean Sea and a treasure trove of spectacular restaurants and beaches. With France's property market currently offering unbelievable value, excellent investment opportunities are emerging in the ever-exclusive Eze.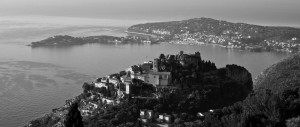 Highly coveted, and recently growing in popularity, it is no wonder that celebrities such as Bono and Julian Lennon own property in and around the charming village of Eze.
All about Eze
In terms of where to buy, Eze is divided into three main areas overall: the village of Eze, the Bord de Mer and Saint Laurent d'Eze. The village itself offers plenty to do and is home to some of the best views along the Riviera coast. "There are some wonderful restaurants there too," says Tim Swannie, Director of Home Hunts, "including the two-Michelin-starred Chèvre d'Or, which is one of the most famous restaurants on the Riviera, if not the world."
The quaint part of Eze is found in Bord de Mer. Here you can find splendid hidden beaches, exquisite restaurants and excellent shopping, as well as a railway station that means you can travel all along the Riviera and to Italy by train. Bord de Mer is also where Bono's waterfront property is located.
Saint Laurent d'Eze, a largely residential area found a little further east along the coast towards Monaco, contains some sensational hillside properties with breath-taking views of the Mediterranean Sea.
"While the whole stretch of coast between Nice and Monaco is wonderful, Eze is particularly nice and popular as it is so close to Monaco," says Tim. "One of the featured properties currently on our website is located in Eze and has been selected due to the increasing demand for property in this area and for the great value that it offers buyers."
Featured property in Eze
Home Hunts' "featured properties" are found on the home page of the website, www.home-hunts.com. In this section it is possible to view up to 120 properties that have been carefully selected by local consultants. "We choose properties which are particularly beautiful or offer great value in each area," says Tim. "As interest is increasing in renovation properties in France at the moment, this villa in Bord de Mer offers a great investment opportunity for a buyer seeking an exclusive renovation project on the French Riviera."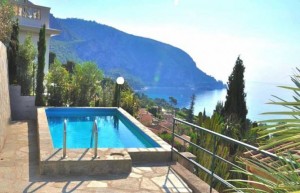 This superb three-bedroom villa in Eze Bord de Mer (HH-7018861) offers 130m2 of habitable space which requires complete renovation. Offering glorious views, especially of the sea from the luxurious infinity pool, as well as landscaped gardens, this really is a must-see property. It is currently on the market for €1,490,000.
Two picture-perfect properties for sale in Eze
There are almost one hundred Eze-based properties in Home Hunts' online portfolio. For those tempted to start looking in the area, here are two more properties to investigate: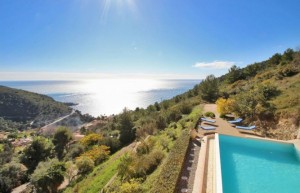 Located in Saint Laurent d'Eze, the panoramic views from this stunning three-bedroom villa (HH-9068038) are exceptionally beautiful from its pretty sun-drenched terraces and infinity pool. With spacious, beautifully-designed bathrooms and incredible dual-aspect views from the master bedroom, this property won't be on the market for long at €2,550,000.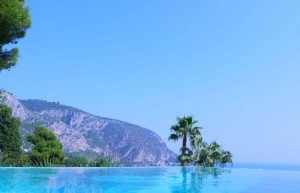 A true piece of art, this two-bedroom villa (HH-6132889) on the seafront of Eze offers luxury living at its finest. Made from a diverse selection of precious materials, such as rosewood from Bali and lava stone, it is a uniquely designed and aesthetically inspiring property. Further features include indoor and outdoor Jacuzzis, an exotic garden, an infinity pool and awe-inspiring views of the mountains and sea. The price is available on application.
To find out more about these properties, visit www.home-hunts.com, or for more information about Eze and the properties available there, speak to a Home Hunts' consultant directly, on: +33 (0)970 44 66 43.