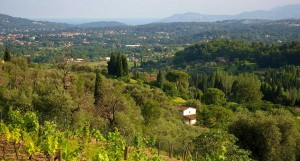 Green fields, pretty perched villages, long lazy walks through the countryside with little streams – you could be forgiven for thinking you are in the middle of nowhere.  But there is good news.  Combine the charm of some Cote d'azur villages all within a short drive away from the sea and you have a perfect mix of coast and country.

Overlooking the French Riviera, Tourrettes sur Loup is one of the most beautiful perched villages in the rolling backcountry of the Côte d'Azur, ideally located between the mountains and the sea, just 25 km from Nice and 35 km from Cannes.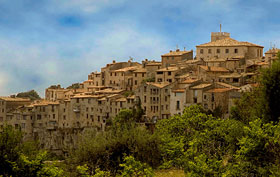 This charming medieval city has preserved its historic authenticity, with its semi-circular village fortifications built around an imposing 15th century castle.  The village, noted for over 150 years for its cultivation of violets, is still thriving. It is home to generations of French families, while integrating a wide range of international residents, all of whom appreciate the breathtaking panoramas, the quiet cobbled streets, the bustling village square with plenty of restaurants and cafés, the weekly Provençal market and regular concerts and festivals.

Sniffing out the intimate little windy alleys of Grasse village is also very worthwhile.  Famous for its perfume, it is situated in a lovely setting with a fabulously mild climate and a clever mix of Genoa and Provence inspired architecture.

As the name suggests Roquefort les Pins has a countryside atmosphere with some great forests with most houses very spacious and the minimum land size needed to build on is from 2500m2. There are numerous hiking trails in the surrounding hills and mountains, canyoning in the nearby Gorge du Loup, horseriding and paragliding.

Another very lovely village is Biot which is only 3kms from the sea but it is perched high up and overlooks hills covered with mimosas and olive trees. Properties in the Biot district are privy to a real Provencal history with the village being adorned by Romanesque doors, vaults, stairways, stonework, sundials, and cobblestones.

This area definitely has so much going for it:  luscious landscapes and countryside, stunning properties with a strong international community and the beaches of the Riviera within easy reach.

If you want it all – then here you can have it all.




Here is just a small selection of properties in the Cote d'azur countryside, if you would like to receive a full selection then please email us on info@home-hunts.com


Asking price : 1,480,000€.  The best value for money in this lovely medieval village.   Recently constructed stone villa set in an entirely enclosed plot of 5000m2. South facing, peaceful location, with views over countryside and sea.



Asking price: 1,500,000€.   good value property near the village of Valbonne set on lovely gardens



Asking price: 1,650,000€.  This property is in Bois Fleuri, one of the most sought after areas between Biot and Valbonne.  Charming villa with an excellent view of surrounding countryside up to the sea. The villa was completely renovated in 2008 with refined taste.



Asking price: 1,295,000€.  This property is situated in Plascassier, 5 minutes' drive from the village of Valbonne.   Authentic 17th century farmhouse tastefully restored throughout with approximately 220m2 of living space.  The price has recently been reduced for a quick sale to 1,750,000 euros.



Asking price: 2,995,000€.  Within 3 minutes' walk to the centre of Roquefort les Pins only 20 minutes' drive to the Nice airport. This beautifully presented property consists of 3 houses, the main house, a guest house and a caretakers house.  All stands in nearly two acres of landscaped grounds with beautiful terraces and a mirror effect swimming pool.  Sensational!
Asking price: 1,750,000€.  This property is totally renovated, situated on the outskirts of Grasse.  Ravishing stone property, facing south, with splendid panoramic views down to the sea, completely renovated with quality materials.