Dynamic and passionate about his stunning area, we talk to Chris Leder who has developed the region of the Alps into one of the most successful parts of the Homehunts portfolio.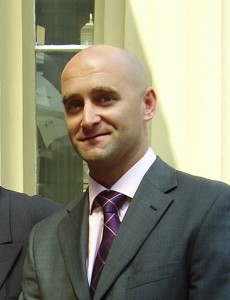 What brought you to the region of The Alps and where you are based?
Having spent 5 years working in music marketing and promotion in London in the late 90's, I decided to take a break and have a winter season in the mountains to get some fresh air. The idea was to take six months off and then move back up to the north of England (home), with the goal of opening a restaurant in Leeds on my return. I went to Meribel on the recommendation of a friend, not knowing anyone, and got my skis on. I spent (LITERALLY) every single day of the season on the mountain, and fell in love with the Alps and the ski resort lifestyle – there isn't a single yard of the 3 valleys I haven't skied!
With no real ties back in the UK, I decided that I wanted to make a new life out here, and so I made sure I hung out with 'the Frenchies' to improve my average O level French – of which I hadn't spoken a word in ten years… I travelled around France for the summer, and then spent a second winter in Courchevel, and my third winter I ended up in Tignes, managing a bar restaurant in Val Claret.6 months later I got the opportunity to buy in, and after 2 years had 50% of the place, 14 employees and a VERY busy bar restaurant.
Another five years and a love story later, my (French) partner and I decided to go for it, and our baby Nina arrived in September 2010, so the restaurant had to go…. 80 hours a week, for 9 months of the year is not conducive to family life, so I sold up and took 4 months off to dote over my newborn daughter and ponder over the future.  Unfortunately Tignes is right on the edge of the Alps, on the Swiss border, which is not an ideal location to cover France and Switzerland – so we moved to a small village called St Jeoire en Faucigny (between Bonneville and Annemasse)
My office is 5 minutes away in Viuz en Sallaz – 30 minutes from Geneva, Evian, Annecy, Morzine, and Samoens, 50 minutes from Megeve and Chamonix (and 5 mins from the nearest pistes in Les Brasses!) – ideally situated for work and play.

How did you come to be working at Homehunts?
After my daughter's birth and leaving the restaurant, I really wasn't sure what I wanted to do but I knew it had to be daytime hours! Tim Swannie and I have a couple of mutual friends (we're Yorkshire men – it's a small place!) and although we had met a very long time ago we didn't really know each other that well .
The two friends in question told me I would be stupid not to go and talk to Tim, and I'm pretty sure they said the same thing to Tim about me! We met up in a pub in Harrogate over Christmas, and it just all fell into place after that. Although Tim and FX know the south very well, they needed someone with good knowledge of the Alps.

How did your family feel about you moving to France, how long have you been over here?
I think it's been 10 years now since I left the UK.  My parents do miss me (and I them!), but there are flights from Geneva to Leeds all winter, so home is literally 4 hours away (if you get the timing right), and obviously all year to London and Manchester.  They love coming out here and having a holiday home in the mountains, and I love having a holiday home in the Dales!

Did you learn to speak French before you moved to France?
I got a good grade O level French, and didn't speak a word for another 10 years – so I really made the point of hanging out with the French, and having a bar is probably the best thing in the world for learning.  Nothing like a little drink to get the language skills going!

Tell us a little about the most popular areas of the Alps with clients currently
Most people like to buy where they have been on holiday, so there is no "most popular" area in terms of buying.  I do occasionally get clients who are not sure of which resort to buy in, which I find refreshing (because where you've been is not necessarily the best place to buy), but this makes my job more challenging.
In terms of destination in general I think Chamonix, and the Portes Du Soleil range (Morzine, Avoriaz and Les Gets) are the top destinations in the Haute Savoie – because of their closeness to Geneva, and obviously the extensive and varied skiing. The Savoie's most popular resorts for our clients (a little further from Geneva) are undoubtably the 3 Valleys (Meribel/Courchevel) and Val d'Isere, but the small resort of Saint Foy should never be forgotten  – up there is the best for Heliskiing.

Do you have a place in your area that you like to escape to?
We spend a lot of time in Samoens, and also Chamonix. Samoens is relatively unheard of, but in my opinion, one of the most beautiful villages in the Alps – the closest I have found to home anywhere in the mountains, with a real 'old village' feel to it, and lovely community, but linked to a brilliant ski range (Grand Massif). I will always love Chamonix, as Mont Blanc is just the most impressive mountain I have ever seen, and off piste skiing accessed from Grand Montet is phenomenal. The town in Chamonix is also full of life (the best bars and restaurants of any resort), and year round which is very important for anyone living out here.

What are the advantages of living in France?
The quality of life!  The weather, even in the Alps, has long warm summers.  The food, the wine, the healthcare system (when you've broken as many bones as I have, this means a lot).  Sometimes things can be frustrating – especially for the first year or so, until you realize that stopping for lunch for 2 hours is not actually too bad…

Is there anything you miss from home?
Timothy Taylor's Landlord (that's Yorkshire bitter for the uneducated!) and fly fishing in the  Dales – there will always be no place like home.

Do you have a favourite property currently for sale?
Actually I have two.  Without a shadow of doubt this property is really rare.  To have this land overlooking the Mont Blanc with deer at the bottom of your garden it has to be one of the best properties I currently have for sale.
(CLICK THE PHOTOS FOR FULL DETAILS)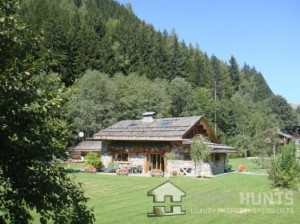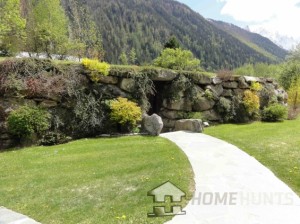 It's two chalets set in over 6000m2 of grounds, with the most stunning view of Mont Blanc imaginable, and about 300 metres from the Grand Montets cable car.. The master chalet is the old Argentiere forge – and is a beautiful conversion. It's got one master bedroom taking up the entire top floor, and an open plan living area and office downstairs (the view, the view!!!)… The second chalet is completely different in style, with 4 en-suite bedrooms, and underground parking with a tunnel into the chalet… Perfect for the guests.  Price: 5,250,000 euros

For pure bling luxury there is also this one:
(CLICK PHOTOS FOR MORE DETAILS)
This apartment perfectly marries the Alpine authenticity of wooden beams with the modernity of glass and steel, to create a warm, bright and homely space, with all the latest design features. With access to a private garden, covered garage, parking space, wine cellar and ski room, and just 60 minutes from Geneva airport, what more could one need after a day on the mountain?  Price: 1,380,000 euros


If you would like to buy a property in the Alps, please contact us for a full selection on info@home-hunts.com