CAROLYN QUARTERMAINE – ARTIST, FABRIC DESIGNER AND STYLIST.
Carolyn Quartermaine's career in design has stretched over nearly three decades.   After she graduated from London's Royal College of Art she launched her first textiles range and since then has worked with many luxury brands such as French crystal company Baccarat, Hermes and Louis Vuitton.

The Designer of the Year by Maison & Object in 2008 has completed a diverse range of stunning projects, from decorative elements for the Sketch restaurant in London, to unique displays in Tokyo, and decorating for the renaissance of the Le Delos hotel on the island of Bendor and Chateau Beloeil in Belgium.

She works from her home in London and also the south of France and with such an eclectic mix of achievements, Carolyn's own design studio and living spaces bear a remarkable resemblance to an artist's sketchbook.

Her extraordinary work is hard to define in a few words, just as there are "nose" connoisseurs in the wine industry; Carolyn is the "eye" connoisseur in the interiors world.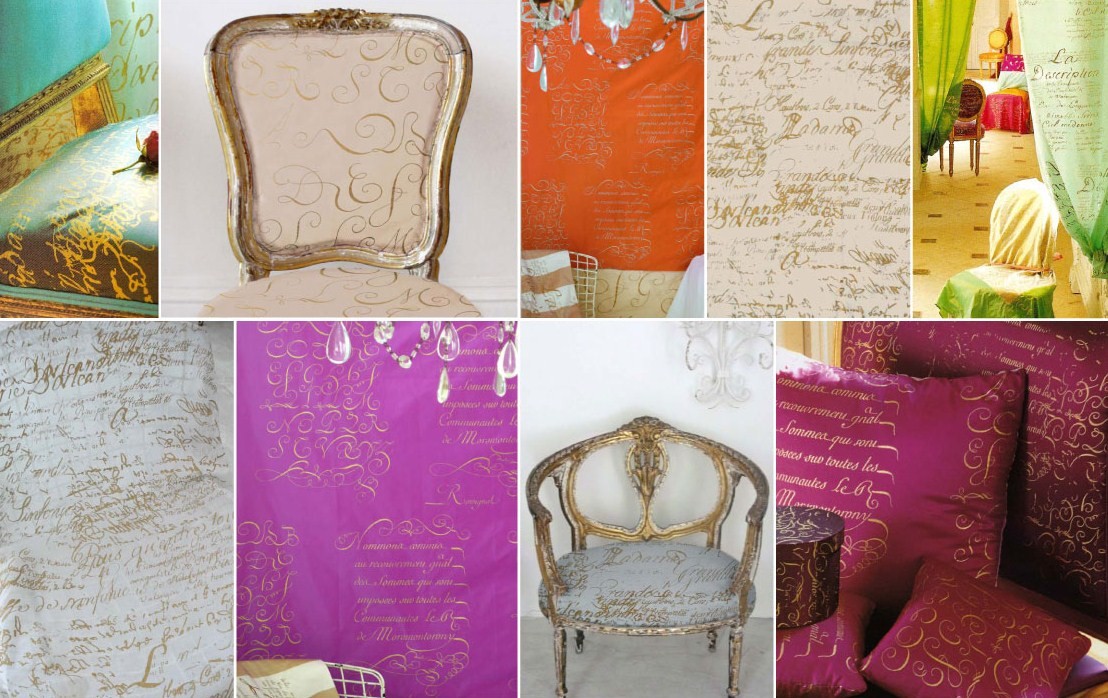 Her brilliant use of colour, against stark white interiors are often the backdrop for opulent French 18th-century pieces and sensuous silks and Louis XV chairs are used like sculpture in modern day rooms.

Her lavish 1997 book, Carolyn Quartermaine 'Unwrapped',  showed how she uses her London flat as an ever-changing design laboratory.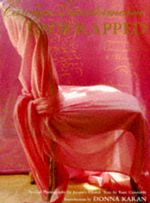 Both the photography and the text are inspiring and entertaining.  The book is becoming harder to find but if you do manage to come across a copy, grab it with both hands.

Her "maison en France" is set back in the hills, overlooking the lively Riveria and inside is dazzlingly light and the walls provide the perfect background for the splashes of coloured glass and Carolyn's own textile collection.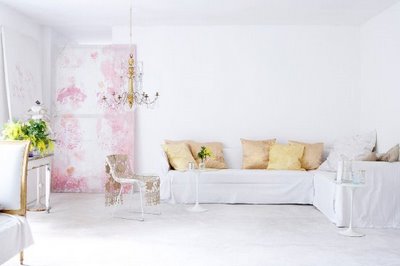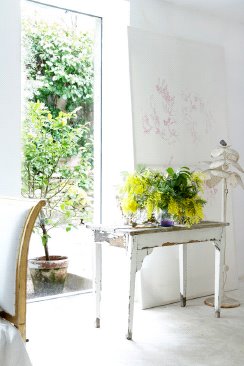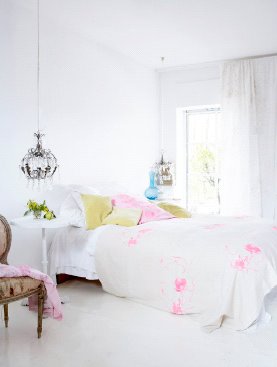 There are simple, clever touches around the home, which achieve a feeling of informal beauty, such as huge canvas paintings propped up, rather than hung up.    'I truly care about every little thing,' she admits. 'Nothing in this house is chosen at random.' She sorts furniture by shape rather than colour, which results in seamless pieces which glide through the house making the atmosphere more natural rather than being a museum.

Earlier this year she was featured on the front cover of Vogue and she combines a mix of baroque with minimalism but you are not left feeling shortchanged on style.  In fact, quite the opposite.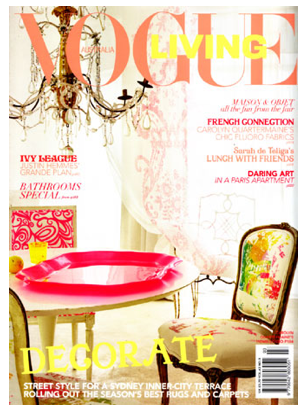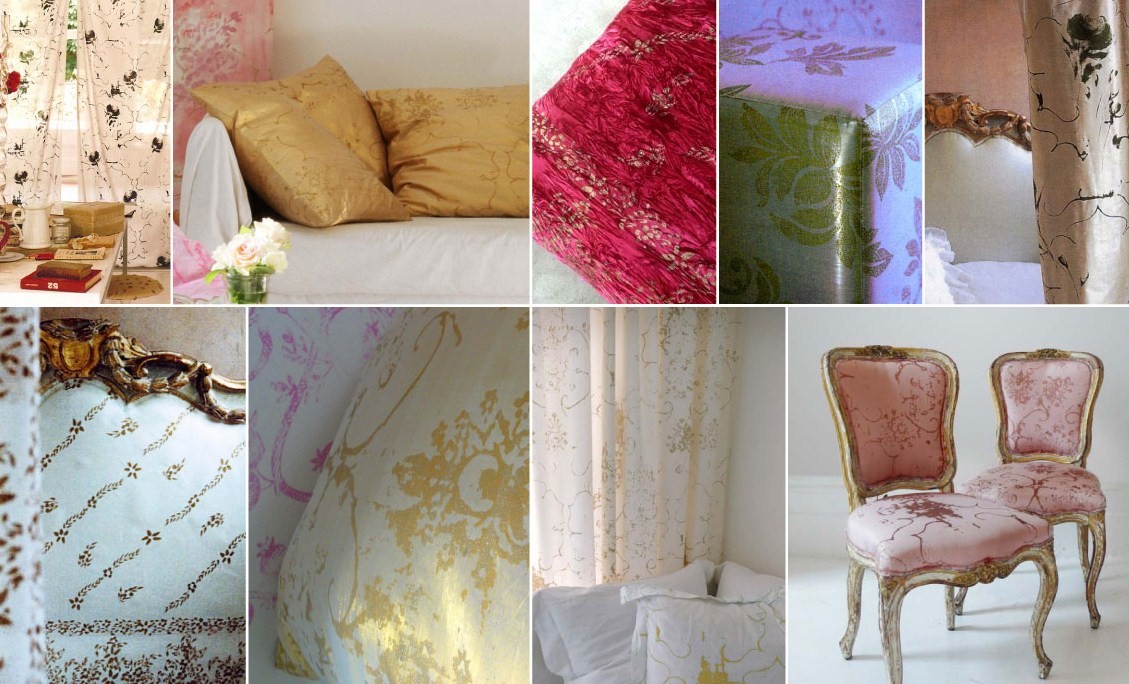 Floaty fabrics, with an eye catching mix of bright white and jewel-toned colours make rooms dance with beauty; it is a talent which has inspired many designers like Donna Karen and Joseph.
This lady has a serious sense of style. A painter at heart, Carolyn Quartermaine incorporates her paintings into her signature textiles making everything feel so fresh and romantic.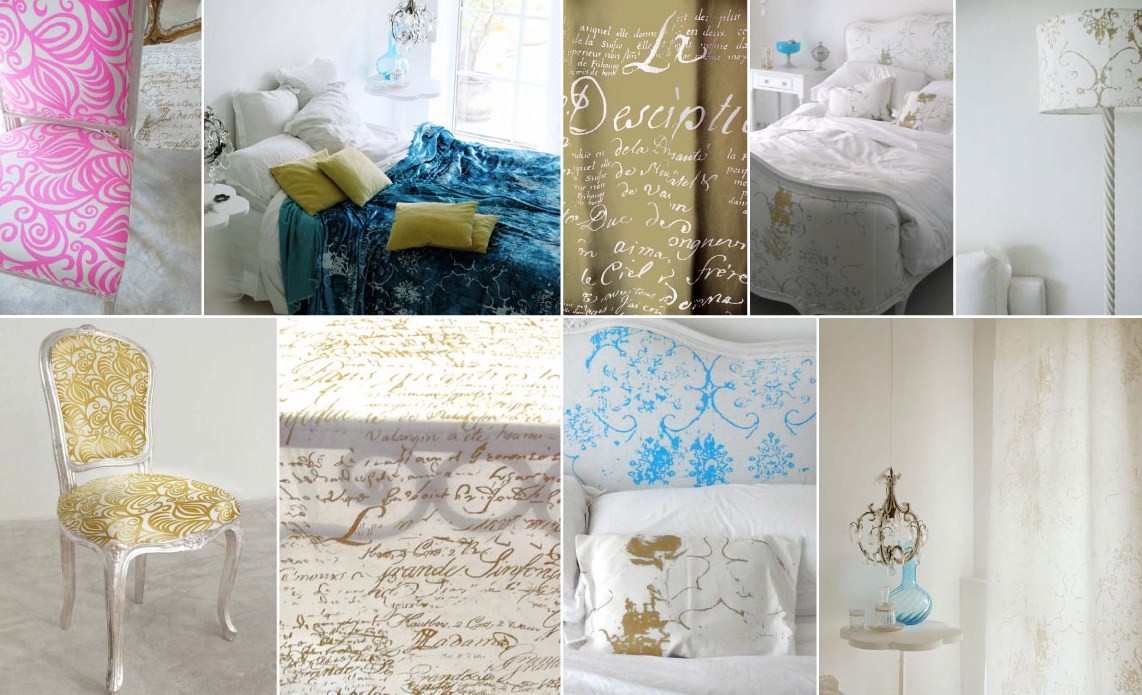 Although much of her work is by commission, fabrics are available from a selection of agents throughout the world and by contacting the company direct.

Go on, spoil your home and yourself, pleasure and beauty is guaranteed.
UNWRAPPED – copies available to order via the London Studio (£50.00 +delivery charge )
The french version is called Une Decoration de Charme (pub Armand Colin)  copies also available
Photo credit Carolyn Quartermaine